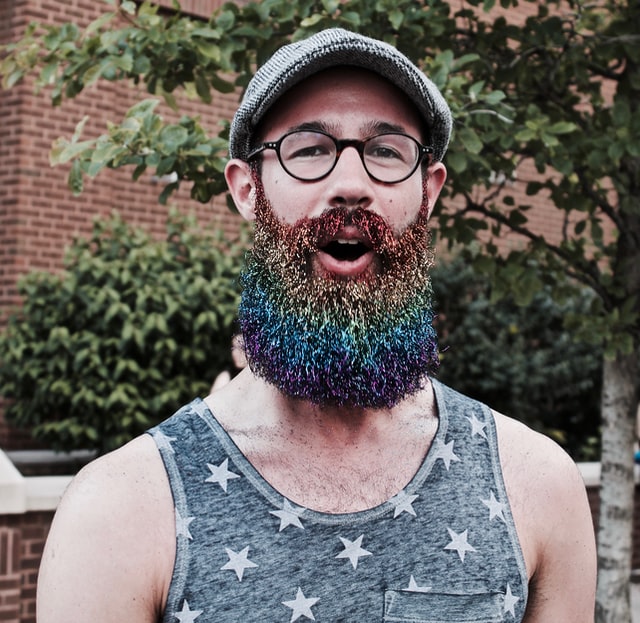 When it comes to the holiday season, nothing says Christmas like trees, ornaments, reindeer, Santa, and glitter beards. Yes, you can now put some glitter in your beard to make it the most festive facial hair at the party.
You can also add other decorations to your beard like beard lights or beard ornaments.
Some men believe that the only time you should have glitter in your beard is after you leave a strip club, and others like to roll heavy on holiday decor. Either way, if you want to put this in your beard, we have some recommendations as well as a tutorial.
As an Amazon affiliate, we may earn a small commission if you purchase an item from one of our links.  This is at no extra cost to you, and it helps to keep our site running.
Beardaments Beard Glitter Pack (Glitterbeard)
This glitter pack for your beard comes in 4 different colors. It comes in silver, green, gold, and red. Beard glitter became famous in 2017 when a couple of guys put some shiny glitter in their beards and made a video of it. The video went viral. From there on, it became a thing to decorate your beard, especially for the holiday season. The guys that make this also make lights for your beard as well as ornaments. So, this company is the king of beard decor.
When it comes to purchasing the right items, there are a couple of ways to go about it. One way is to buy a kit that has everything that you need to sparkle up your beard.
The reason you should buy this premade kit is because it has everything you need to style of your beard with some Christmas colors. It has several colors, and beard oil that will need to applied so the glitter will adhere to your facial hair. The glitter isn't specially made for hair, but if you don't want to bother with getting individual pieces, then this wil work.
---
How To Make A Glitter Beard
There are several ways to make a glitterbeard. You can buy a pre-packed kit which includes everything that you need, or you can purchase everything individually. Here are the items you will need to make this:
Glitter: You can use a single color or multiple colors. Glitter comes in different sizes, and while the smaller pieces may give you a more uniform coverage, it will be harder to get out.
Beard Oil or Hair Gel: The glitter will not stick well in your beard, but if it is heavily moisturized, it will hold. You can use either product, and some men see better results with each.
Step 1
The first step is to put some beard oil into your beard. You can also use hair gel if you have some of that laying around. This will allow the glitter to stick to your facial hair. Any thick beard oil will work, but if you want one that smells like Christmas in a bottle, go with Badger beard oil. You can also use hair gel like this from Amazon.
Step 2
Once you have gel or oil in your beard, then you can take any standard glitter and sprinkle it in your beard. You can decorate it any way you like.
Step 3
As an optional step, you can lightly spray some hair spray in your beard over the glitter. This may help to keep it in place. Obviously, you want to be careful with the spray.
Here is a video tutorial on how to apply glitter to your beard.
How To Remove Glitter From Your Facial Hair
The best way to remove it from your beard is to take a shower and use soap and warm water. It may take you a good 10-15 minutes to get everything out depending on how thick your beard is and how much glitter you used. It may take an extra shower the next day to get rid of everything, so if you have some extremely important event where you have to look your best, then you should do a trial run to see how easy the stuff will come out of your beard.