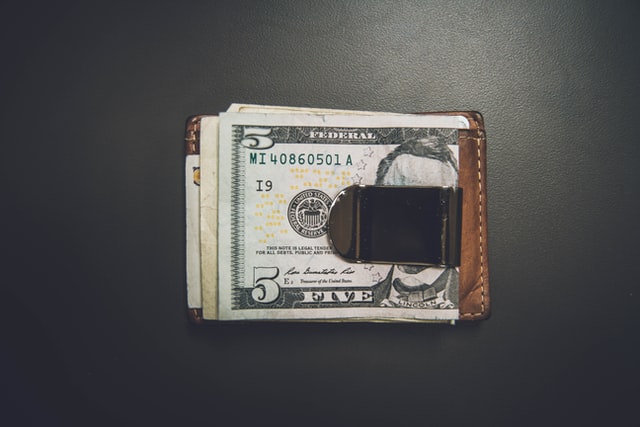 Money clip wallets are becoming more popular, especially with men. These wallets are slim and compact, and they are made out of materials like aluminum, carbon fiber, and leather.
The need to carry large traditional bifold wallets has diminished for men due to the fact that we no longer carry as much cash. Most transactions these days are made with credit cards or debit cards which has reduced the need for bulky wallets.
This has paved the way to have a money clip wallet which is a sleek and stylish way to carry your money and check cards. These have a minimal size, and they can be carried in almost any pocket due to their small size. If you are looking for the best money clip wallets for men, then take a look at our list.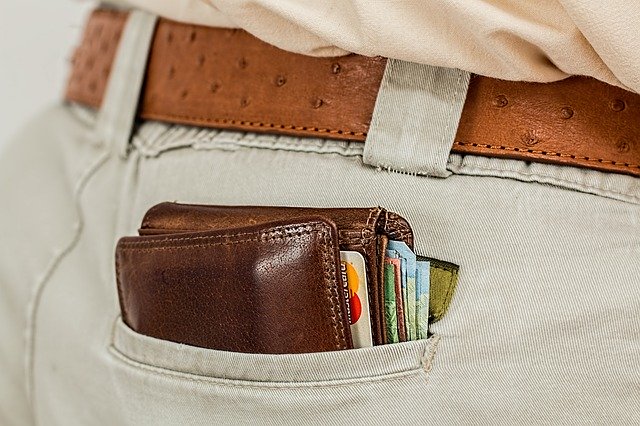 There are several styles of wallets including bifold wallets, minimalist, EDC (everyday carry), and of course plain wallets with money clips. With so many cool clothing accessories these days, men are finding new ways to carry their money. There are even belts with hidden pockets in them that let you do this. These leather belts are a great addition to some of the leather wallets in our list.
1. Travando Money Clip Wallet Rio
Available in multiple colors including black, orange black, and brown, this versatile and slim money clip wallet is a solid choice. This Travando wallet features 7 card pockets which should be enough to hold your ID and credit cards. It also has a stainless steel money clip that can hold your cash. The Travando is one of the best money clip wallets on the market.
This leather wallet also feature RFID blocking so you can feel safer knowing that someone will have a difficult time scanning your card numbers. It also features a small size of  4.7" x 3.0" x 0.7 which provides a minimalist design.
One of the best features of this wallet is the unique outside pocket with a thumb opening. This means that you can keep your most used card here so that you can easily retrieve it by sliding the card out with your thumb. This bi fold wallet is an excellent choice.
Key Features
Holds 7 cards
RFID Blocking
Outside pocket with thumb opening
Strong money clip
---
2. FIDELO Minimalist Card Wallet
The FIDELO is a great minimalist men's wallet that includes 2 money clip bands and a leather case. This wallet has a hybrid design so that you can carry it 3 ways. You can carry it in the leather case, with a removable cash band, or you can just use the aluminum wallet. One of the best features of this money clip wallet is the pop up trigger. This allows you to easily slide up the cards that are inside. If you have ever been in a rush and tried to pull out cards from your wallet before that are crammed in tightly, then you will appreciate this feature. The cash bands will allow it to hold up to 10 bills, and the aluminum wallet will hold up to 5 cards.
Features
Holds 5 cards
Leather Case
2 money clip bands
Pop up trigger
Only 1.7 ounces
---
3. Dango D01 Dapper EDC Wallet
The Dango D01 EDC is a great money clip wallet that is handmade in the USA out of Aerospace Aluminum and genuine leather. This features a slim design, and it weighs only 2.4 ounces. This wallet is made for someone who is looking for a product with some edge. It is made with contrasting materials like metal and leather which makes is look rugged and modern. This money clip wallet is classy enough to pull out in a boardroom, and it is rugged enough to pull out at a bar. This holds up to 12 cards and 5 bills of money. The benefit of this wallet is that it can hold up to 12 cards.
This wallet also has RFID protection which is important.
Key Features
Holds 12 cards
Lightweight
RFID blocking
Genuine leather
Made in USA
---
4. Claasico Leather Money Clip Wallet
This Claasico leather money clip wallet utilizes a strong magnetic clip which allows you to hold a lot of money. If you are looking for a classic leather style money clip, then this is your best bet. There is nothing fancy about this wallet, but it does allow you to carry more cash money than some of the others. This wallet is made of pure leather, so it is a solid price for that benefit. This comes in multiple colors, so if you don't like the coffee color shown, there are a lot more options.
This does come in a gift box, so that is a bonus if you are looking to find a wallet for a gift.
Key Features
Holds 3 cards
Low cost
Great for Cash users
---
5. Armour Supply Co. Wallet For Men
The Armour Supply Co. wallet for men is a unique option for guys who want more than just a plain pocket wallet. This money clip wallet is perfect for guys who like to tinker with things. It comes in about a dozen different colors so you should be able to find a color that matches your style. This wallet comes with a money clip, an elastic cash strap, a multitool, and a key holder. This is designed to be changed around, and you can remove screws with the provided tool. There is a cool video on Amazon that shows you everything that this wallet from Armour Supply Co. can do.
Key Features
Holds 12 cards
Includes tactical multitool
Includes key holder
Money clip and strap
RFID blocking
100% money back guarantee
---
6. Buffway Slim Minimalist Front Pocket Wallet
The Buffway Slim Front Pocket Wallet is a great choice for men who need something very small for their pocket. This money clip wallet comes in over 10 different colors, and it has a special clear pocket for your drivers license. This is the best budget card wallet on our list, and this is perfect for guys who are not looking for a flashy choice. This is a simple leather design that gets the job done. It holds cards, money, ID's, and it blocks RFID signals. This is small enough to be carried as a front pocket wallet that is not bulky.
Key Features
Holds 12 cards
Hold 8 cards with cash
Hidden pocket for money
Slim design (0.2 inches thick)
Budget price
---
7. Toughergun Magnetic Money Clip Wallet
The Toughergun money clip wallet is a great choice for men who need to carry a lot of cards, but who also want a strong magnet to hold cash in place. This rugged style leather wallet comes in 16 different colors, and it utilizes 4 rare earth magnets to secure your cash. Most wallets only use two magnets, but Toughergun goes the extra mile here. The wallet is made with full grain Napa cow leather. This comes with 3 card slots, 2 larger slots, and an ID holder with a clear cover.
Key Features
Uses 4 rare earth magnets
Holds 5 cards, ID, and a lot of cash
RFID blocking
---
8. Elite Goods Aluminum Carbon Fiber Money Clip Wallet
The Elite Goods Carbon Fiber clip wallet is a solid choice if you are looking for something sleek, metal and stylish. This is made with hard pressed Aluminum metal with an anti-scratch coating. This is a top design if you need a modern design. This wallet includes a strong metal money clip on the back if you want to store up to 5 folded bills in it. This money clip wallet does come in multiple colors, but we think that the modern style of the silver looks best.
Key Features
Holds 15 cards
RFID blocking
---
9. The Ridge Front Pocket Wallet
The Ridge Money Clip Wallet in gunmetal grey is a sweet looking wallet that is super sturdy. This is designed for men who want a rugged wallet to fit their lifestyle. If you are into the outdoors whether that is hiking, camping, fishing, etc., then this is the wallet you should be looking at getting. This wallet is made with military grade materials that should last you a lifetime. As a matter of fact, it comes with a lifetime warranty, and their customer service is top notch. This will hold up to 12 cards without bulging out due to their patented design, and it comes with a money clip or you can use an elastic strap to hold cash. This allows you to choose which style suits your needs best. They don't skimp on quality because they even use stainless steel screws. This is important if you like to get dirty and wet.
Key Features
Holds 12 cards
Lifetime guarantee
RFID blocking
Money clip or elastic band
---
10. Alpine Swiss Front Pocket Wallet
The Alpine Swiss Wallet is a great choice for men who want designer colors for their wallet. This wallet does come in traditional leather, but it comes in several other bright colors that other brands do not offer. In addition to the blue wallet shown, it also comes in grey burgundy, tan, and olive. If you want to stand out from other guys that are carrying brown leather or metal style wallets, then this is a brand you should consider buying. This money clip wallet is made from soft Nappa leather, and it has 8 card slots plus a magnetic money clip for your cash.
Key Features
Holds 8 cards
Magnetic money clip
RFID
Unique colors
---
11. House Of Jack Bifold Wallet
The House Of Jack Bifold money clip wallet is a combo of a bifold wallet and a money clip. This is for men who need more than just a one piece with a clip. If you don't like the design of minimalist style wallets, then this one is a great option. Like any normal bi-fold wallet, this has 6 places for cards on the inside. On the outside, it has an exterior window to put your ID as well as an extra card slot. What separates this from a normal wallet is the magnetic money clip on the outside that allows you to hold money.
Key Features
Holds
Full grain leather
Signature gift box included
---
12. Serman Brands Slim Bifold Wallet
This wallet by Serman Brands is another bifold wallet that includes a money clip, and it also comes in unique stylish colors like the Alpine Swiss. This is your standard wallet that opens up with card slots on the inside, and it also has slots on the outside if you need quick access. This is a great spot to put your commonly used credit cards. This stylish wallet also includes a thin money clip bar on the inside so that you can secure your cash. There also is an inside slot with a clear window so that you can put your drivers license in it. This way you don't have to dig through your card slots to find your ID when you need it.
Key Features
Holds 6-8 cards plus ID slot
RFID blocking
Unique colors
---
13. Herschel Men's Charlie RFID Wallet
The Herschel Men's wallet is about as simple as you can get. This has 4 slots, and it is perfect if you tap to pay at checkout. This wallet will allow you to grab this out of your pocket, tap the pay machine and be done. This doesn't open like a bifold, and you will need to add some elastic to turn it into a money clip. You could store some cash in one of the card slots, but you won't be able to get much in there. This wallet makes our list of the best money clip wallets for the fact that it is one of the best quick tap wallets for checkout.
Key Features
Holds 4 cards
Unique camo colors
RFID blocking
Super minimalist wallet