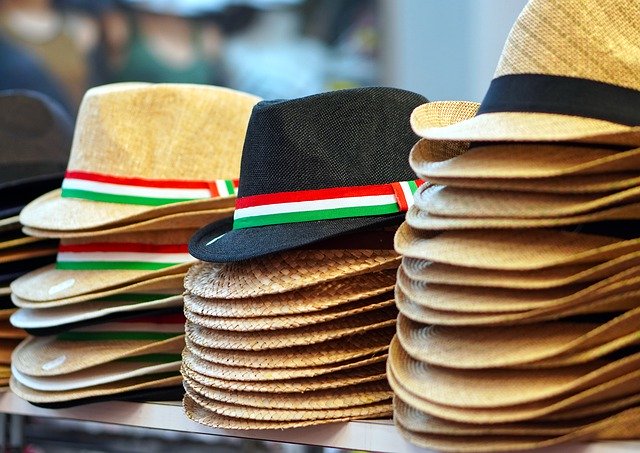 During summer, men need to break out the hats that work best for them. Guys need hats that are stylish, and they need to provide protection from the sun. Believe it or not, straw hats come in many different styles and designs.
The new trend is hats with designs underneath the brim. This allows you to get the protection you need, and it lets you show your flare. We have made a list of the best straw hats for men that are stylish and practical.
SA Fishing Under Brim Straw Hat With Flag
One of our favorite brands for outdoor apparel is SA Fishing, and they have one of the best straw hats for summer time. They also make some awesome looking face shields if you need protection from the sun for you face.
These hats are perfect for outdoor wear during the summer because they provide ample coverage from the sun, and they have several designs that you can choose from. Another advantage to these hats is the internal head band that is inside which will help to keep sweat down.
They also have a pull string in case you are doing something adventurous like boating so that it won't fly off.
SA Fishing Mahi Design Straw Hat
This is another favorite by SA Fishing that uses a Mahi design under the brim. This is the perfect style for wear near the beach or saltwater fishing.
Check the hat out here at SA Fishing
O'Neal Men's Straw Lifeguard Sonoma Print Sun Hat
This hat has some nice braiding, and it comes in 3 different colors, which lands it on our list of the best straw hats for men. You can get it in khaki, sonoma, or sonoma with a camo design under the brim. It is made out of 100% sea straw, and it is 17 inches across the brim. It also comes with a chin drawcord with a cord lock on it.
It has tons of reviews on Amazon, so if you like this, you can see what others had to say about it.
Men's Straw Hat With Scuba Skulls by Malabar
This is design is unique which is why it made our list of top straw hats. It takes a common skull thing but mixes it with an underwater design. It also comes with a Malabar logo design on the front.
This straw hats features an elastic hang hook so that you can easily hang it up, and it comes with an adjustable drawstring with a natural bead. The grommet being natural and rust proof is a great feature because they are worn around water a lot.
Men's Straw Hat With Hawaiian Print
This hat is exactly the same as the above straw hat except that it has a Hawaiian print design instead of the scuba skulls.
Midwest Gloves & Gear Men's Outdoor Straw Hat
This hat offer 30 spf, and it has an adjustable lanyard chin strap like most of the other hats on our list do. This is a general hat with no design under the brim, and it is more of a work style hat that does not offer too much style.
If you are looking for a gardener type hat then this is a good option.
PELAGIC Baja Straw Fishing Hat
Pelagic is a widely known men's fishing apparel brand. This hat features a custom print under the brim that matches with Pelagic's branding. The hat is very well made and sturdy, but it is a little more costly than some of the others. When you wear a product with brand reputation, you generally have to pay a little more for it though.
The brim is about 4.5 inches wide and continuous all the way around.
Peter Grimm Straw Round Up Cowboy Hat
This is an authentic Peter Grimm straw hat. This has more of a country flare to it, and it comes with a leather chin strap.
ZAKIRA Straw Boater Hat 
This is an elegant Italian made Boater hat. It comes with a band around it that comes in several colors including green, grey, and red. This hat is backed by a 30 day warranty if you are unhappy with it.
Men's Vintage Tea-Stained USA American Flag Cowboy Hat
This is the hat to get if you want to turn heads. This is a formed straw hat that has been coated to maintain its shape. It has the USA flag design on the outside of the hat, and it does come in a few different variations.
There is a wire in the brim so it is bendable if you need to shape it just a bit.