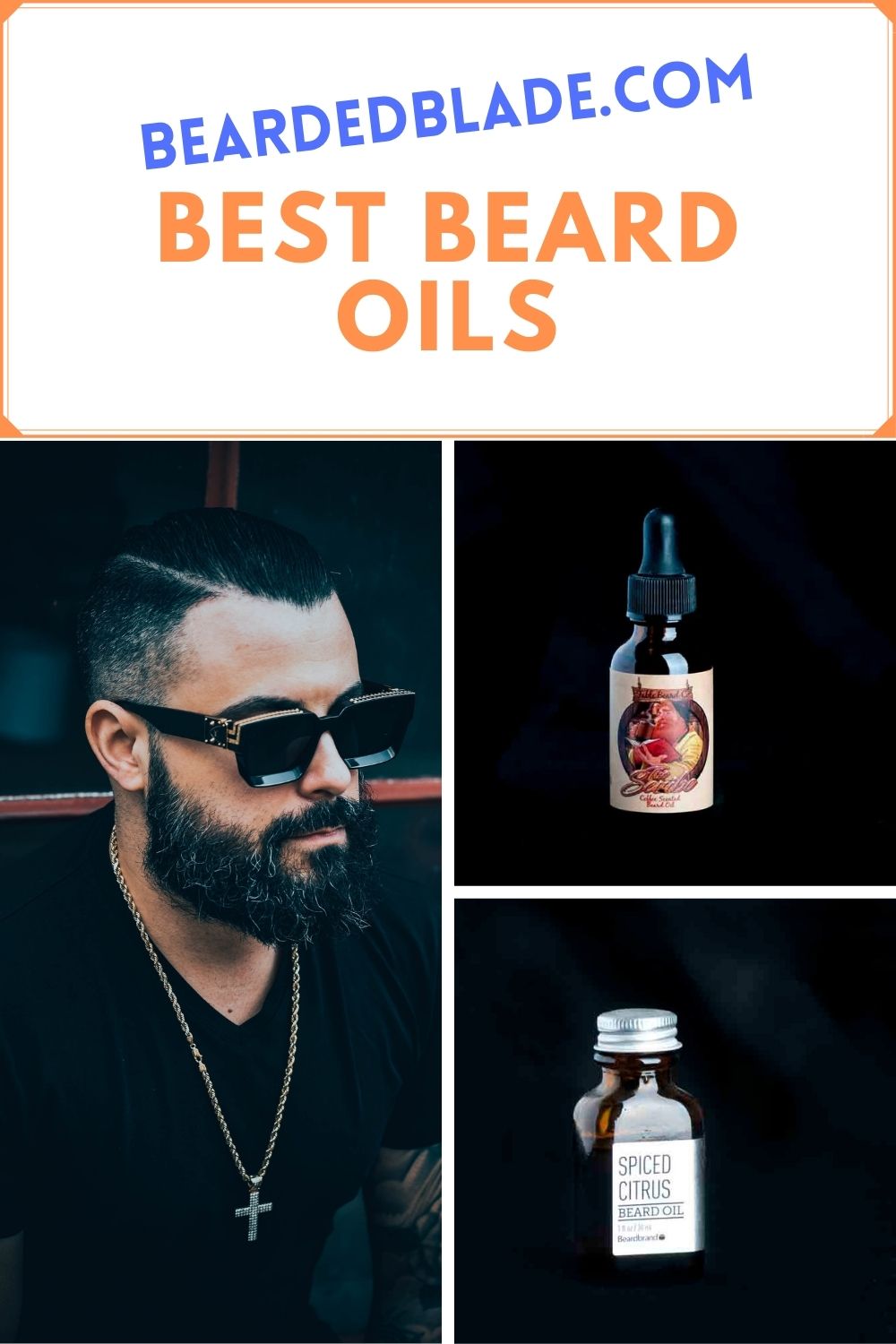 Growing a beard can be difficult for some men, especially if you are a first time beard grower. You can experience new issues that include beard itch, beard dandruff, and patchy beards. The good news is that there are a lot of beard companies with some amazing products that can help you in your beard journey. This will keep you looking well-groomed even if you are not clean shaved.
One of the most popular products for your beard hair is a product called beard oil. This can be very helpful to you especially if you are a guy growing one for the fist time. These products provide some great benefits, and once you start using them, you may find that you have a dozen different brands in your bathroom cabinet. It can be a difficult decision because there are so many to choose from, but we have a list of the best beard oils available to help you decide.
What Is Beard Oil?
Beard oil is a mixture of carrier oils and essentials oils that are used to nourish the beard and the skin under the beard. It mimics the natural oils produced by the body with the goal of keeping your hair soft and shiny. If it is scented, then it can also be used like a cologne.
The main ingredients are carrier oils like coconut oil, avocado oil, argan oil, and sweet almond oil. These are just a handful of carriers as there are a lot more. A beard oil can consist of just one oil, but the majority of them are made with multiple oils mixed together.
The reason you would want one that is a mix of oils is because each oil has its own advantages. Some are loaded with beneficial vitamins and others offer antimicrobial benefits. Also, some oils are great at conditioning hair, and others are great at absorbing into the skin. A beard oil that offers several different oils can provide your beard and skin with several benefits that you might not get with just a one oil.
They also come in unscented and scented versions. The unscented ones are just made using the carrier oils with no scent added, and the scented ones will have essential oils and/or fragrance oils added. Essential oils are naturally occurring oils like Orange oil and clove oil. These are derived from things like fruits and trees. Fragrance oils are synthetic components that are man made to mimic scents. When you see scent descriptions like apple, pineapple, honey, whiskey, and cologne scents, their is a great chance that synthetic fragrance components are being used.
Beard oils typically come in 1 ounce amber bottles with a dropper or reducer in the cap to help control the amount of oil you can apply to your facial hair.
They help with beard growth
They help with beard hair shape and texture
They hydrate beard hair
They moisturize the skin under your beard
They help reduce itchy beard and dry skin
They help with beard dandruff
When Should You Use Beard Oil?
You should use beard oil as soon as your beard is longer than stubble. A lot of the problems with growing a beard come in the beginning when your face is getting used to its new furry friend. If you have an established beard, then these oils will certainly help here as well.
One of the key uses for beard oil is for treating beard itch. Growing facial hair can cause your skin to dry out a little bit, and this can cause itchy beard. A beard oil will provide moisture to your hair and skin. This will help to alleviate any itching you may experience.
You can use them for the treatment of beard dandruff. This is also known as beardruff, and it can be a problem in beards. This is basically flakes of dead skin that can be seen in your beard hair. This can look ugly, and it can cause guys to feel less confident in their beards. These products will help keep your skin moist and conditioned which will help reduce dry flaky skin.
You can also use them when you don't have any issues at all for any length of beard. They will help to keep your beard looking nice and healthy, and it may help reduce common issues seen with beard growing.
To keep it simple, you should use beard oil anytime you have a beard.
The Best Beard Oil For Men
1. Badass Beard Care Beard Oil
BABC beard oil is great for many reasons. The company has been around for awhile, and they are constantly churning out new beard care products. This comes in your standard 1 ounce amber bottle with a dropper which makes it easy to dose on the palm of your hand.
They offer a lot of scents, and they use essential oils for fragrance. This will give a more natural scent to the product, and it makes your beard smell amazing. It is strong enough that you can catch whiffs of the scent throughout the day.
Our favorite scent is probably The Outlaw which is Tobacco, black pepper, and vanilla. It is a nice warm and spicy scent.
Some other benefits to BABC:
Made in the USA
Veteran Made
12 Scents To Choose From
100% Organic Food Grade Ingredients
100% Satisfaction Guaranteed
1000's of Reviews
Feel In Beard: This is a great product in your beard. It has a medium consistency, so it should work well for most seasons. This oil doesn't stay greasy in your beard hair, absorbs well, and the scent holds for most of the day. The scents are made with essential oils so you shouldn't get any fragrance headaches from any overpowering scents.
Key Ingredients:
Apricot kernel oil, Argan oil, Jojoba oil
Oil: Medium
2. Royal Beardsmen Beard Oil
Royal Beardsmen offers some great scented oils for your beard, and they come in larger 2 ounce bottles. Their blend of carrier oils are standard oils like argan, jojoba, and sweet almond. Plus, they have some unique ones as well like Apricot Kernel Oil and Pumpkin Seed Oil. There are 8 total plus vitamin E, so this is a top-notch beard oil with some quality ingredients. We can't say enough positive things about their blend, but that is not the best thing about their beard oils.
Another reason why Royal Beardsmen is one of the best beard oils is their unique and incredible smelling scents. They have some amazing scents like El Humidor (Cuban cigar scent,) Dragon Spice (cinnamon and vanilla,) and Bonfire Brandy (whiskey and campfire.)
Because they have so many incredible scents, you can order a sample bundle to figure out which scents you like best. If you can't find a scent from Royal Beardsmen that you like, then just go ahead and shave your beard off. No, seriously, don't do that, but you should be able to find something you like from them.
Feel In Beard: Feels great in beard and sits on the heavier side. It does a great job of coating your hair and getting down to your skin. It has zero greasiness and absorbs well. The scents are AMAZING and last throughout the day.
Key Ingredients:
Argan Oil, Jojoba, Sweet Almond, Vitamin E
Oil: Medium-Thick
3. Beard Octane Beard Oil


Beard Octane beard oil is one of the best "feel in beard" oils available. This will help to bring your beard game to the next level. They have a lot of great scents to choose from whether you want something like Apple Pie beard oil which is great for Fall and Winter, or something like Citrafella (citrus) beard oil for the summer months.
You can't go wrong with their Liquid Gold which is a Cypress and Oud scent. It has an amazing scent of wood and ocean air.
The feel in beard is great. It is light, and it absorbs very quickly into the beard and skin. It's like your beard hair sucks in the oils for immediate hydration. The scents last throughout most of the day, and with a lot of scents available, you should be able to find something that you like. They do offer samples, so you can try some before you get a full bottle.
---
Feel In Beard: Absorbs very quickly in the beard and skin. It has a very light feel to it, and it is perhaps the best feel in beard oil on the market. Beard Octane beard oil keeps your beard conditioned throughout the day.
Key Ingredients:
Aloe extract, Argan oil, and Fractionated coconut oil.
Oil: Light
4. Badger Beard Oil
Badger beard oil smells AMAZING. This is one of the best scents available. Badger uses all organic ingredients including the essential oils it uses for the scent. This is not something that a lot of companies do because organic essential oils cost a lot more than regular ones.
The scent is a mix of cardamom, vanilla, and black pepper. This smells like Christmas in a bottle, and it is one of our favorite scents. To give you an idea, we have smelled hundreds of beard oil fragrances.
The main carrier oils are Jojoba and Babassu, and it also contains pomegranate extract which has powerful antioxidants. This product is USDA Certified Organic which means none of the ingredients used were processed with fertilizers or pesticides.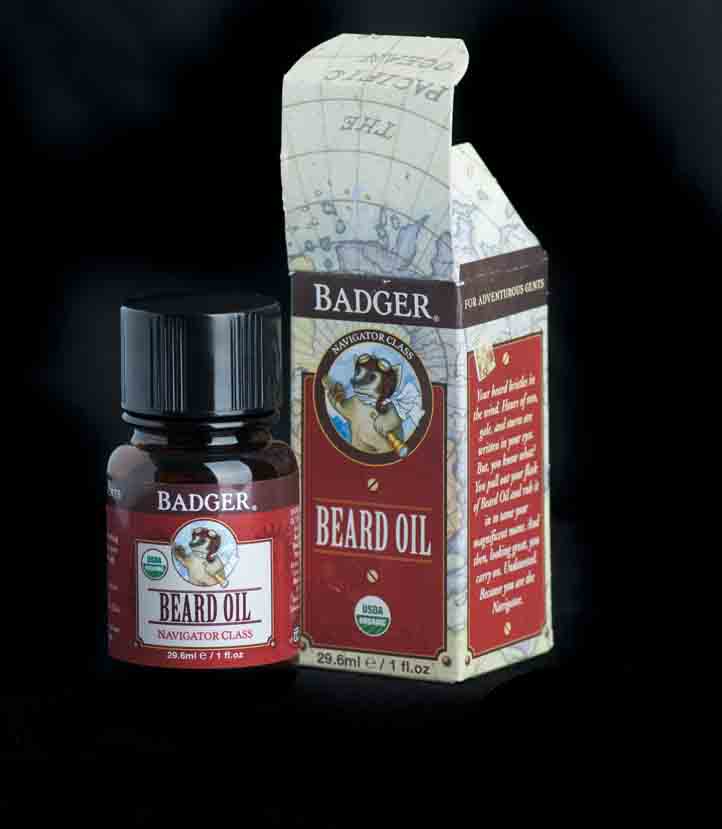 ---
Feel In Beard: Absorbs well, and does a great job of coating beard hair and the skin. The scent fades in a 4-5 hours, and the oil conditions for most of the day.
Key Ingredients:
Organic Jojoba Oil, Organic Babassu Oil, and Organic Pomegranate Extract
Oil: Medium-Thick
5. Can You Handlebar Beard Oil
Founded originally to craft some mustache wax, Can You Handlebar now offers a full line of beard care and grooming products for men. Their beard oil is crafted using a blend of light and medium weight oils, and they scent their products only with essential oils.
The bottle also comes in a cardboard container which is a nice added touch. This can also be used as a way to protect your bottle when you travel. The scents are natural smelling due to their use of essential oils for fragrance. If you are looking
Our favorite scents are Wisdom beard oil (Spruce and Lemon) and Animated beard oil (coffee).
Feel In Beard: This is exactly what you would expect from a light to medium oil. It stays on your facial hair awhile, but it does not linger and feel greasy, and it absorbs well into your skin.
Key Ingredients:
Olive Oil, Jojoba Oil, Vitamin E, Essential Oils
Oil: Light-Medium
6. Fable Beard Co. Beard Oil
It takes a lot to be one of the best beard oils, and Fable makes the list because of their unique branding and story telling. Of course, their actual product is amazing as well, but there is something different about Fable. With hundreds of different beard companies out there, it is hard to stand out, so kudos to Fable for getting past that hurdle.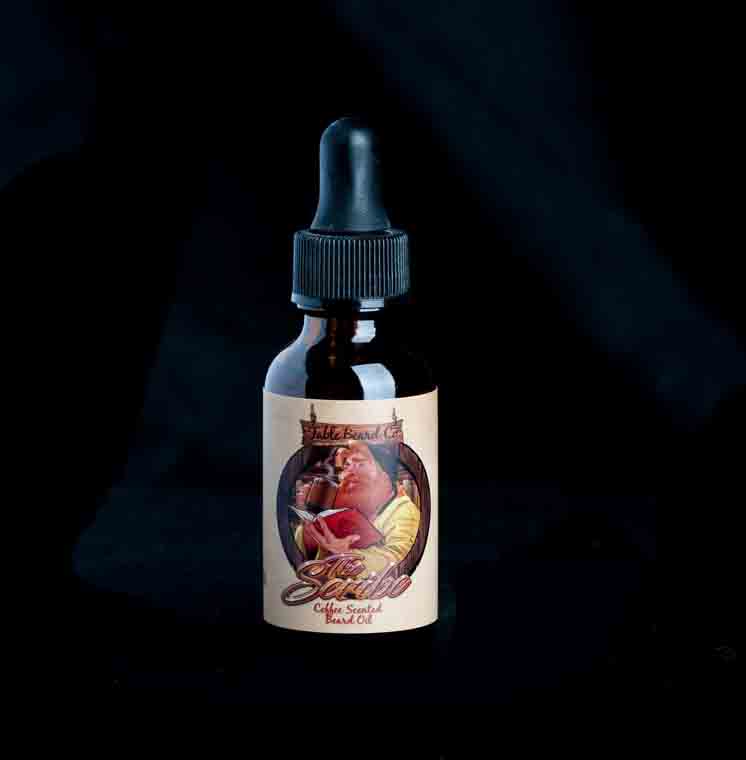 Each scent comes with its own character and label design. They really are a cool and unique brand, so if you have never heard of them, we recommend that you head over to their site and take a look.
Our favorite scents are The Scribe beard oil (coffee and chocolate) and Dr. Wolf (tobacco and blueberry). Yes, those notes sound weird, but trust us, the scent works and smells great.
Feel In Beard: One of the primary oils is Castor which is a little thicker than most so Fable's beard oil wears a bit heavier. This is great for all beard types, but works really well with fuller and thicker beards. Even though it is on the heavier side, it does not feel thick in the beard and it absorbs well. It also does a great job of conditioning the skin under your beard. For oils on the medium-thick side, this is one of the best absorbing beard oils on the market. The scents are strong and last throughout the day.
Key Ingredients:
Coconut oil, Castor oil, Argan oil
Oil: Medium-Thick
7. Beardbrand Old Money Beard Oil
Beardbrand is one of the pioneers of beard grooming products. We love their gold line of beard oils, specifically their Old Money scent. This is a blend of mahogany, leather, whiskey, and tobacco.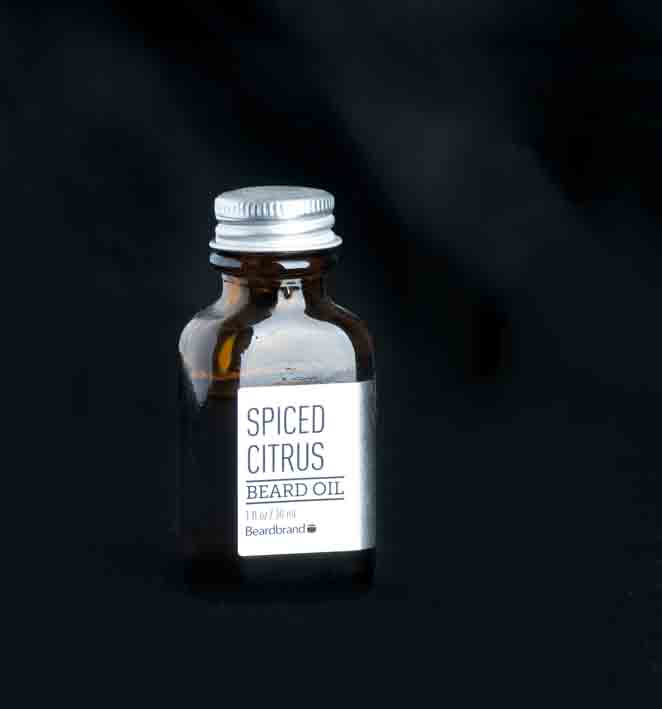 Feel In Beard: This is a very good product that works great. There is basically no greasy feeling, and it does a great job of conditioning the beard hair, and it keeps your skin moisturized through most of the day. The scent lasts for several hours.
Key Ingredients:
Abyssinian seed oil and Jojoba oil.
Oil: Light-Medium
8. Mountaineer Brand Beard Oil
Mountaineer Beard Oil is about as manly as you can get. With scents like Timber and Pine Tar your beard will never be weak smelling again. Although we love masculine scented beard oils, our favorite from Mountaineer is their Lime and Sage scent. It is the perfect blend of citrus and herbaceous notes. Their products are all natural, and they only use essential oils for scent.
Some of the best reasons to try this brand is their low cost, and their oils come in 2 ounce bottles. This is a great starter beard oil because you don't have to spend a lot of money. Lime and Sage is a nice clean smelling safe scent for first timers as well. Their are so many beard oil scents out there, and a lot of them are fairly complex. Lime is simple and it smells great.
---
Feel In Beard: The feel in beard for this oil is great, and it does a fantastic job of coating your beard hair and skin.
Key Ingredients:
Grapeseed oil, Almond oil, Essential Oils
Oil: Light-Medium
9. Bearded Bastard Beard Oil
TBB beard stands out because of their laser etched wooden labels, and of course their great beard products. One of the most popular scents for men is vanilla, and the great news is TBB offers a vanilla scented beard oil.
One of our favorite products from them is their beard oil travel pack which includes their incredible smelling Simply Vanilla and 4 other scents like Morocco (clove, amber, coffee) and Opium Den (tobacco, amber, vanilla). Yes, their scent line up is incredible.
Some men do enjoy a nice looking bottle on their shelf, and TBB is second to none in that department. Throw in some quality beard oil, and you have a must buy product.
Feel In Beard: This leaves your beard soft, and it conditions your skin and beard hair throughout the day. Scents are incredible.
Key Ingredients:
Sweet Almond Oil and Argan Oil
Oil: Medium
10. Outlaw Magic Beard Elixir
Outlaw is a brand that is focused on the Western life of being rugged and masculine. Most of their products are scented like bourbon, gunpowder, leather, campfire, and sagebrush. They offer a a variety of sundries from handmade soap, solid colognes, deodorants, and beard care products. Their beard oil, rightfully named Outlaw Magic Beard Elixir, stands out because of its large 3 ounce bottle.
While most of the products on our best beard oil list contain complex and unique scents, with Outlaw beard elixir, you know what you are going to get. This oil is scented with cedarwood essential oil and campfire fragrance. The scent is rugged and masculine, and it smells exactly like its description. It is a good mix, and it is not overpowering on the campfire scent. Some other campfire scented beard oils that we have smelled were a little too potent for our liking. This one is perfectly blended, and it smells incredible. If Clint Eastwood uses beard oil, it would have to be Outlaw Magic Beard Elixir.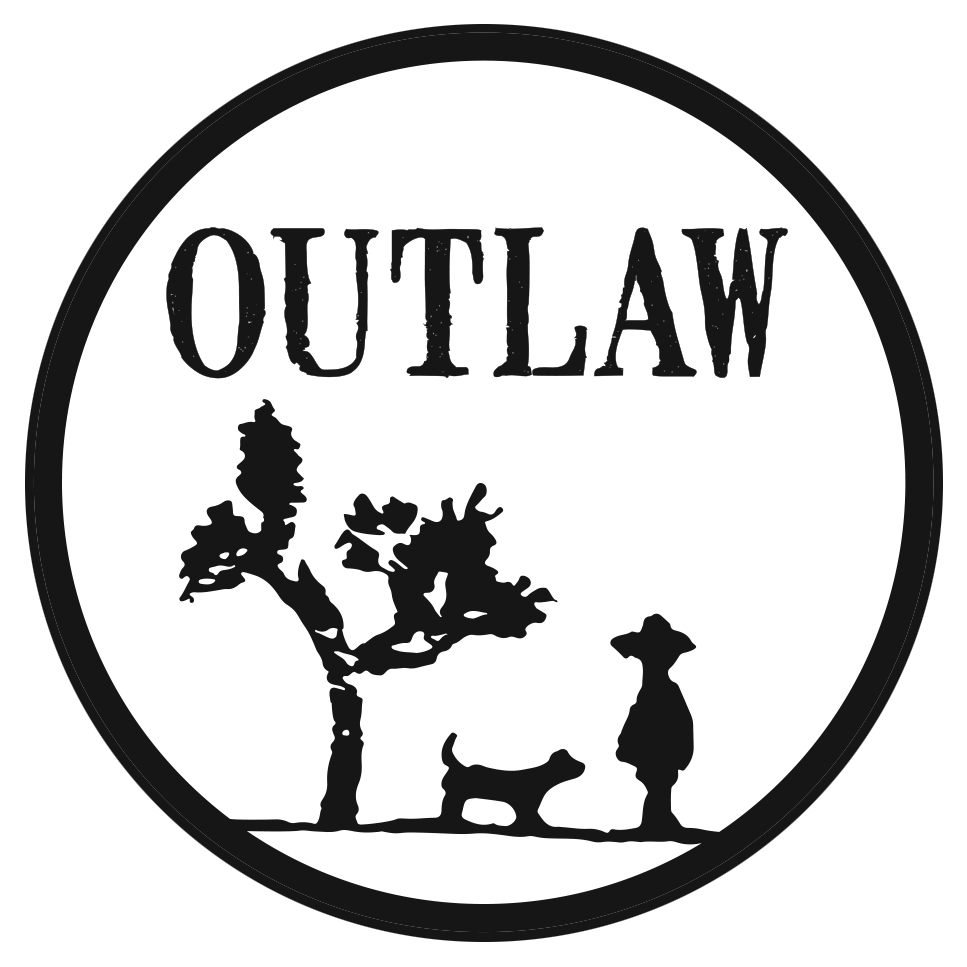 The oil is on the medium to heavy side, and if you have a large beard, this is perfect for you. It does a great job of coating your beard hair as well as your skin. The downside to some heavier oils is they can leave a thick and greasy feeling on your skin throughout the day. Outlaw beard oil works great because it does absorb well into your facial hair and skin.
Due to its large bottle size and great cost for 3 ounces, this will work great for men who need a beard and utility oil. You can use this for your beard, hair, tattoos, rough elbows, or anywhere else you need a little extra conditioning. Of course, you can do that with any of the other oils, but you don't have to be stingy with it due to the large amount you get.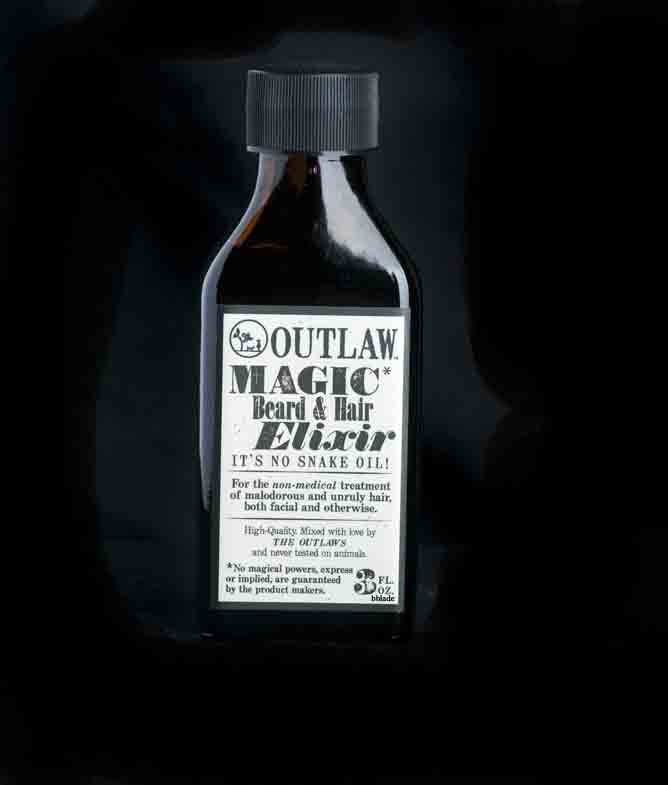 Feel In Beard: This beard oil fully coats your beard and skin, and it lasts a little longer than some of the lighter oils on our list. By last longer, we mean the product stays on your beard a little longer before being absorbed.
Key Ingredients:
Coconut Oil, Jojoba Oil, Hemp Oil
Oil: Medium-Thick
11. Honest Amish Beard Oil
Honest Amish Beard oil comes in their signature scent which is a blend of 7 essential oils. They don't offer a multitude of scents like some other companies do, but their oil comes in a 2 ounce bottle like Mountaineer Brand.
The most dominant scent is Anise which is black licorice. It is mixed with several other scents so it is not a pure licorice, but it smells great. The scent is masculine and smells great because the anise is mixed with other essential oils. Due to it's low cost, and it is easy to get from Amazon, this makes a great beard oil for beginners.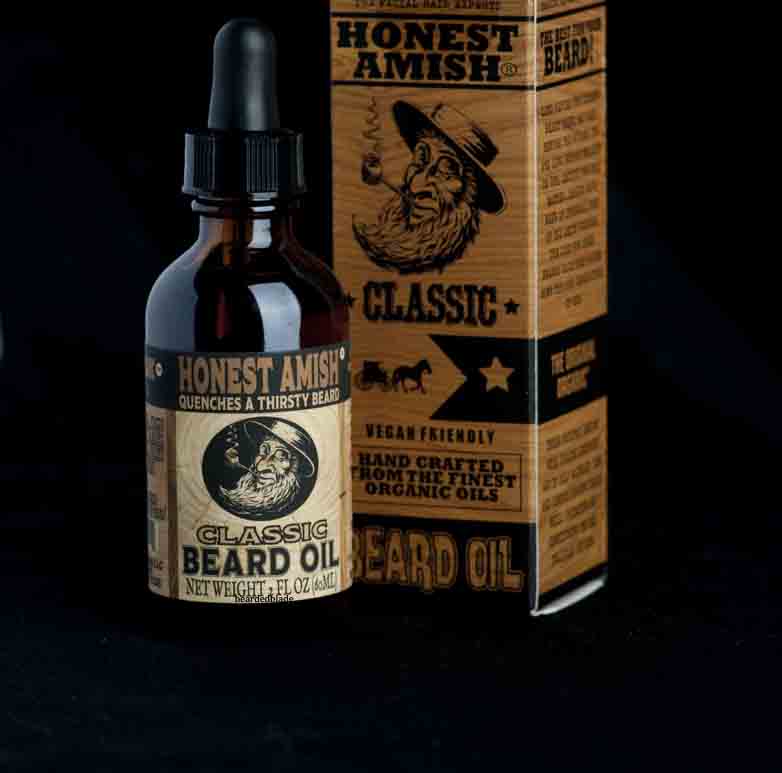 Feel In Beard: This leaves your beard soft, and it conditions your skin and beard hair throughout the day.
Key Ingredients:
Avocado oil, Virgin Pumpkin Seed oil, Moringa oil, Essential Oils
Oil: Medium
---
12. Grave Before Shave Beard Oil
Grave Before Shave has some of the flashiest label art, and if you have ever searched for beard oil on Amazon, then this brand has likely popped up. Is it worth it? Yes, if you like the brand and the labels, then that is an added plus because the product works great. They offer a lot of scents like Gentlemen's Blend and Bay Rum.
Our favorite Grave Before Shave scent is Cigar Blend which is tobacco and vanilla scented. It smells heavy on vanilla with some cinnamon spicy tobacco notes.
Feel In Beard: This has a solid feel in beard and works like a great medium thickness beard oil.
Key Ingredients:
Apricot Oil, Jojoba Oil, Aloe Vera
Oil: Medium
How To Choose The Right Beard Oil For You
Price
Your budget, or what you are comfortable paying, is usually one of the biggest factors in determining which brand of beard oil to purchase. Some brands are more expensive than others, but once you start getting into beard oils, your collection can add up. At this point, price may not be as important because you value other things like packaging, scents, rarity, etc. If you are starting out, this is probably one of the biggest factors because you may not be sure it this is something that you want or need to have for your beard. Our list offers several low cost options that will work great for your beard.
Ingredients
When it comes to ingredients, you want to choose a beard oil that has natural oils in them. Natural oils are Avocado, Olive, Argan, Castor, etc. Some of the larger brands have synthetic ingredients in them, and these are not the best things to put in your beard. Another point to consider is that certain oils will absorb differently into your skin and facial hair. The only way you can learn this is by using different brands. Generally, the ingredients are listed in order of how much is used. So, if you try a product that is too thick, and Castor is the first ingredient, your next beard oil should be something with no or less castor oil in it. The best way to find which ingredients work great for your beard is to try a lot of different beard oils from different companies.
Brand
This may not sound important, but brand and marketing influences what you purchase. Choose a brand that fits you which should not be hard because their are so many.
Application
There are generally three types of application methods from beard oil bottles. One is simply an open bottle where you can pour some oil into your hand. The downside is that it is harder to do a drop by drop measurement. The two most common methods are droppers and reducers. Reducers are plastic pieces that sit in the opening of the bottle which reduces the amount of oil that comes out. Generally, you have to shake the bottle a bit to get the beard oil to come out. The last option is droppers which are glass droppers with rubber tops that allow you to precisely measure each drop you put in your palm.
Once you use enough beard oil, you may learn that you have a preference for one application style. Over time, the rubber in droppers can degrade and stop working, and sometimes the glass dropper can break. Your preference will come with experience.