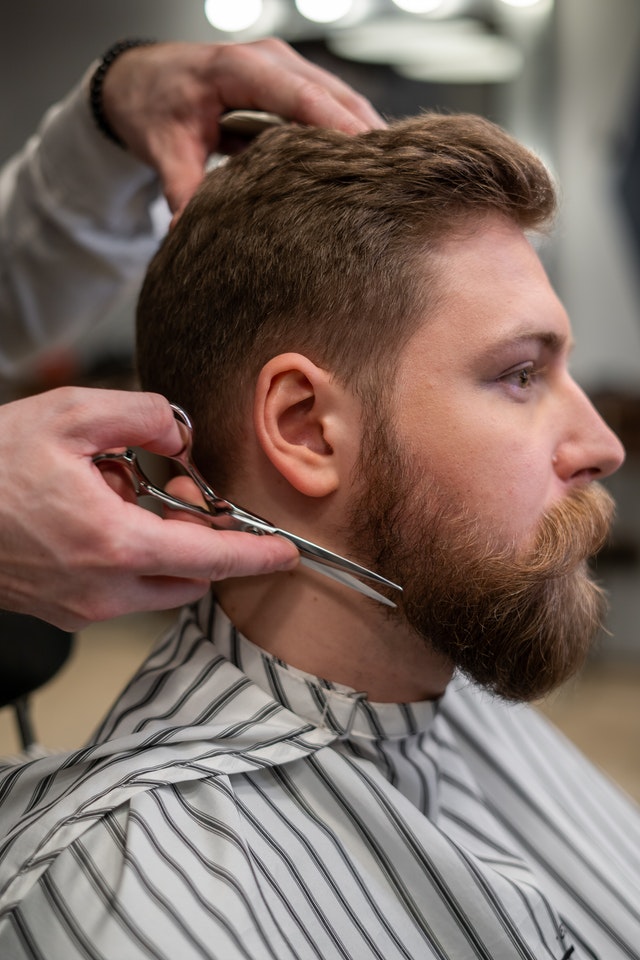 There is no such thing as a naturally grown, perfectly shaped beard. When you see guys around with tight lines and shaped beards, then you can be sure that they are putting some work in to make their beard line up like that.
Sometimes beard hairs will grow out of place, and sometimes things just don't look smooth and even. In order to get this, you will need understanding on how to get this tight look. It is not difficult to do, and it will make you look more groomed and presentable. Whether you are going for a casual or professional look, keeping your beard tight and trimmed will make you look better. Unless you are going for the wild and disheveled look, then you need to do this.
As an Amazon affiliate, we may earn a small commission if you purchase an item from one of our links.  This is at no extra cost to you, and it helps to keep our site running.
If you are looking for a style guide to beard line ups, you can check out or guide here:
Tools You Will Need For Your Beard
You will need two tools to line up your beard. These are a beard trimmer and a beard comb. There is also an optional tool called a beard shaper that we will also take a look at.
When it comes to choosing a beard trimmer, there are so many options available. Most of them come with gadgets and guards that are important for beard styling, but you won't need those now. The only part that you need is the straight trimmer. The difference between a budget trimmer and one that is more expensive is how well it trims your facial hair off. A low cost option will remove your beard, but it will leave a little bit of stubble. A better trimmer will give you a trim that is closer to a razor shave. Of course, neither will get your face baby smooth like a razor blade though.
A solid bugdet trimmer is the Philips Norelco Multigroom. This will do the job, but it will leave some stubble. You can always clean up your beard lines with a razor if you want it to be smoother.
The Hatteker is a step above the Norelco, and overall it is a better option.
You will also need a wide tooth beard comb, and almost any will do. This low cost option is a solid choice. It does the job, and it comes in a nice carrying case, plus you can't beat the price.
Steps For Cheek Line Up
1. Wash Your Beard
The first thing you need to do is wash and condition your beard. The purpose for this is not just to get a clean beard, but you will need to comb your facial hair and detangle it. You can use mild shampoo and conditioner, but if this is something that you plan to keep doing regularly, then we recommend a conditioner designed for beards. We like Bossman beard conditioner. It is designed for facial hair, and they offer a lot of great masculine scents. This is the start of getting your beard lined up on your cheeks.
You need to let your beard dry completely before you start trimming lines in it. It is not the best way to do this while your hair is wet. You can dry your beard with a dryer if needed.
Beard hairs tend to grow wild and out of place, so it is important that you detangle and comb your beard before you shape edges and lines in it.
2. Comb Your Beard
The next step to take before you start trimming your line is to comb your beard. This is much easier to do now that your beard has been washed and conditioned.
3. Make A Line
You can make a visual line, but the best way to do it would be to use your beard comb. Just place your comb flat on your cheek with the teeth pointing away from your beard, and then you can see where some stray beard hairs are. If you look at the model below, you would just place the teeth of the comb where the white line is. You want to make sure not to go down too far, or you will squeeze your beard in. This will give the appearance of a smaller beard, and it will not look as good.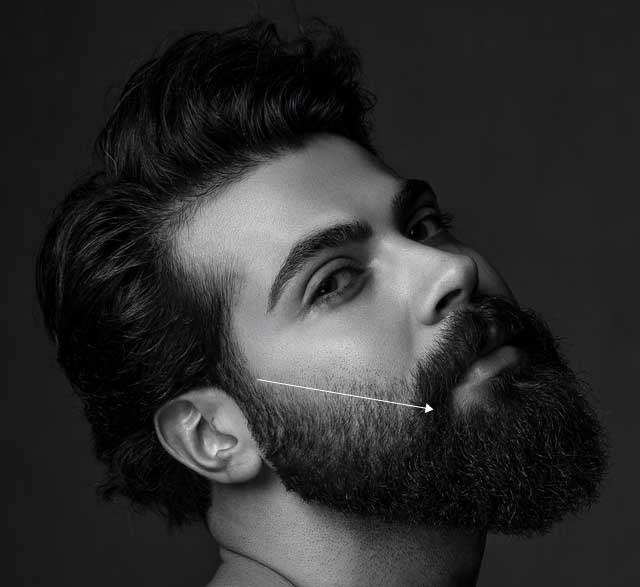 4. Trim Or Shave Off Stray Beard Hairs
Use your beard trimmer here and remove any of the stray hairs above the line (or the beard comb.) You can use a trimmer or something like a barber's straight edge. The barber's straight edge uses a razor blade to give really define lines as it will remove all of the stubble where a trimmer may not. You can follow up your trimmer with the straight edge as well. A solid choice for a barber's straight edge is one by Utopia. These are like straight edge razors except you can replace the blade, and they are easier to use. They are also way easier to get lines over using a normal cartridge razor where you can't see exactly where the blade is.
How To Line Up Your Sideburns
1. Visualize A Straight Line Down Your Sideburn
You can use a beard comb to make a straight line down your sideburn, and the facial hair that is covered by your comb needs to be removed.
2. Trim Down Each Sideburn
Starting with one sideburn, use your beard trimmer and remove the part of the beard that you isolated in step 1. You can make a hard straight line, or you can round it out a bit. This will be up to you to determine based on which beard style that you prefer. Once you have finished with one sideburn, then trim the other one.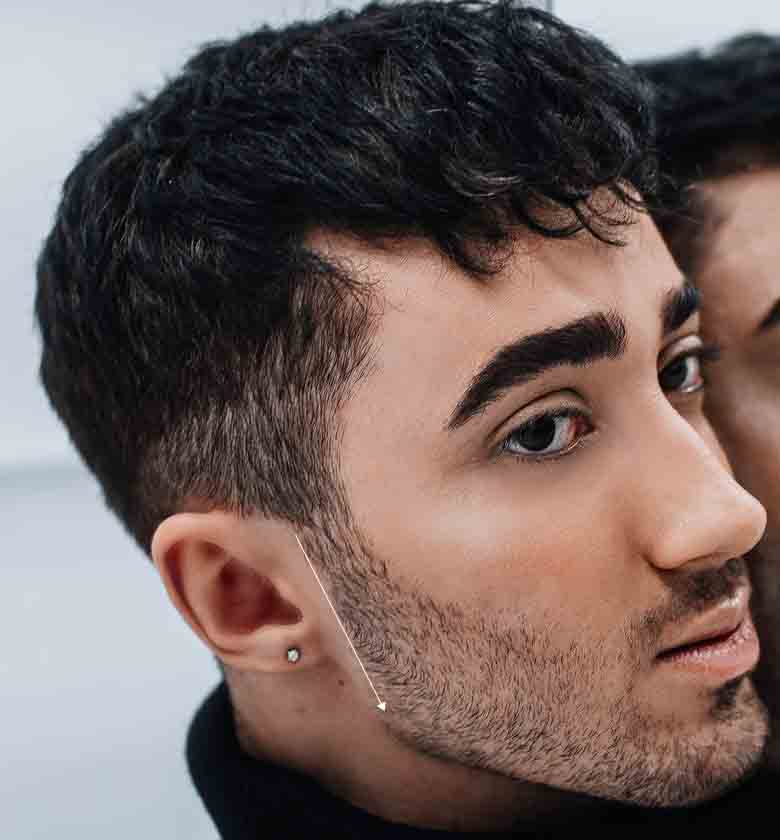 Beard Line Up On Your Neck
1. Locate Your Neckline
You will need to locate where you are going to shave and trim your beard line. This is a personal choice, but a standard neckline is centered about 1 inch above your Adam's Apple. A great way to find this spot is to place two fingers above your Adam's Apple.
2. Find The Top Of Your Neck Line
Now that you have the midpoint of your neck, you will need to find the top of your line. You can visualize a point from one ear to the other, and this will be used as the line that intersects with your midpoint. You now have a visualization of where you need to use your beard trimmer.
3. Use Your Beard Trimmer
Use your beard trimmer with no guard attachment and shave downward along your line. Trim all the way down to remove all of your beard hair. You will likely have a little bit of stubble left depending on how good your beard trimmer is. You can use a razor with shaving cream if you want to remove all of the stubble, or you can use a barber's straight edge razor.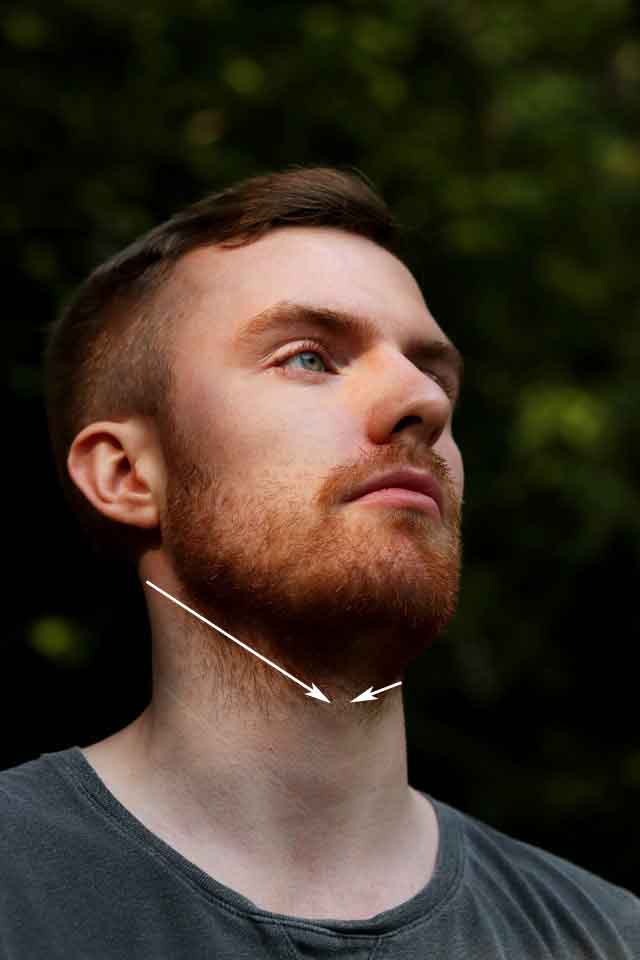 4. Trim Your Neck Line Every 3 to 4 Days
Obviously, your beard will grow back, and if you want to keep tight lines on your beard, you will need to keep it trimmed. You may need to trim it more or less depending on your growth, and how clean and tight you want your lines to be.
How To Use A Beard Line Up Tool
Some men like gadgets and tools, and the good news is that there is a tool if you are learning how to line up and shape your beard. These are basically low cost tools that you can place against your face that will show you where to trim and edge your beard. The benefit of this is that you don't have to look at imaginary lines in your facial hair as the beard tool shows you exactly where you need to shave.
The beard tool will allow you to shape your cheeks, sideburns, neck, and mustache. It will take care of all areas on your face.
To use this beard tool to shape your beard, you simply place the tool against your face where you want to make your lines. This allows you to see exactly where you need to trim or shave. It comes with a comb on it, but we do not recommend to use it because it is not the best beard comb and the teeth are too close.
One side of the tool is curved and the other side is flat. This allows you to shape your beard either way. You may want the natural curved style or the straight edge. This tool helps you achieve either look.
Whether you make your lines with this tool or with a beard comb, you will still need a beard trimmer or razor to trim and shave.
Summary
Hopefully you learned how to line up your beard from this information. There are several ways to do it, and you will need to get some beard grooming tools if you don't already have them. They are not expensive, and if you plan to keep a beard, you should get them. They will help to shape up your beard so that you can line up your sideburns, neck, and cheeks.