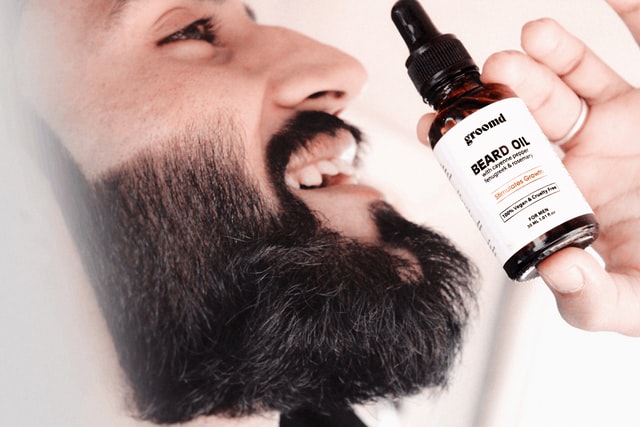 Jojoba oil has been used for skin and hair care for a long time. Men also use it for beard grooming. It is one of the most popular ingredients in beard oils and balms.
But what about using it as a stand alone oil on your beard. Does it work? Does it provide any benefits for your beard?
We can take a look at this oil to determine exactly what it will do to benefit beards. The main question is does Jojoba oil make beards grow faster and thicker.
By clicking an affiliate link to Amazon, we may receive a small commission on qualifying purchases. This is no extra cost to you, and it helps to keep the site running.
What Is Jojoba Oil
Jojoba oil comes from a nut from the Jojoba tree. It is prevalent in North America. The tree typically grows in hot climates out west. This oil has been used in cosmetics for a long time due to its beneficial properties. It has been used specifically in hair and skin care products.
Jojoba has a lot of benefits because it is moisturizing, hypoallergenic, noncomedogenic, and antibacterial, among other things. You can see why it is so popular.
Due to its beneficial properties for hair, it is often used in beard care products for men.
Benefits Of Jojoba Oil For Beard Growth
Jojoba oil provides a lot of benefits for beard growth. The main benefit is that is moisturizes and strengthens beard hair which can lead to a thicker fuller looking beard.
Jojoba will not directly grow new hair on your face where it does not exist.
Conditions beard hair: A conditioned hair is easier to manage, and it is less likely to get brittle and break off. It will also make it easier to comb and brush. Combing will stimulate blood flow around your hair follicles where your beard grows. This can slightly improve growth.
Reduces beard dandruff: A dry itchy beard with dandruff is not a good thing to have when growing out your beard. You will be more prone to itch and scratch it. This can lead to hairs falling out. If you do it enough, you may develop patchy spots in your beard.
Improves the look of your beard: A shiny clean looking beard will appear to be more healthy. This will allow you to have more confidence.
Jojoba oil is great for beard care, and it is similar to how a lot of men use argan oil for beard growth. It is a carrier oil that provides a lot of benefits to facial hair.
How To Use Jojoba Oil On Your Beard
You can use pure Jojoba oil to condition your beard. To apply it to your beard, take a dime size amount in your palms. Rub your hands together to make sure your palms are evenly coated in oil. Rub your hands and fingers through your beard. Make sure it get the skin under your beard as well. Massage the oil into your facial hair. This will stimulate circulation around your hair follicles.
You can also purchase beard oil that contains Jojoba oil.
Best Jojoba For Beard Care
The best jojoba oil for your beard needs to have several qualities. It needs to be certified organic, cold pressed and 100% pure. There are a lot of carrier oils on the market, and some of them may be diluted and not pure. If you are applying something to your beard, you want it to be top notch.
Jojoba Vs. Castor Oil For Beards
Two popular oils for beard care are Jojoba and Castor. These oils are prevalent in many beard care products and rightfully so.
But what is the difference between jojoba oil and castor oil for beard care?
Castor is a thicker oil while Jojoba is lighter and resembles natural oils produced by your skin. They do both provide a lot of similar benefits like moisturizing and antibacterial.
It comes down to personal preference which you prefer. Jojoba is lighter and will be absorbed by your facial hair and skin better. Castor is heavier and applies a thicker coat on your beard.