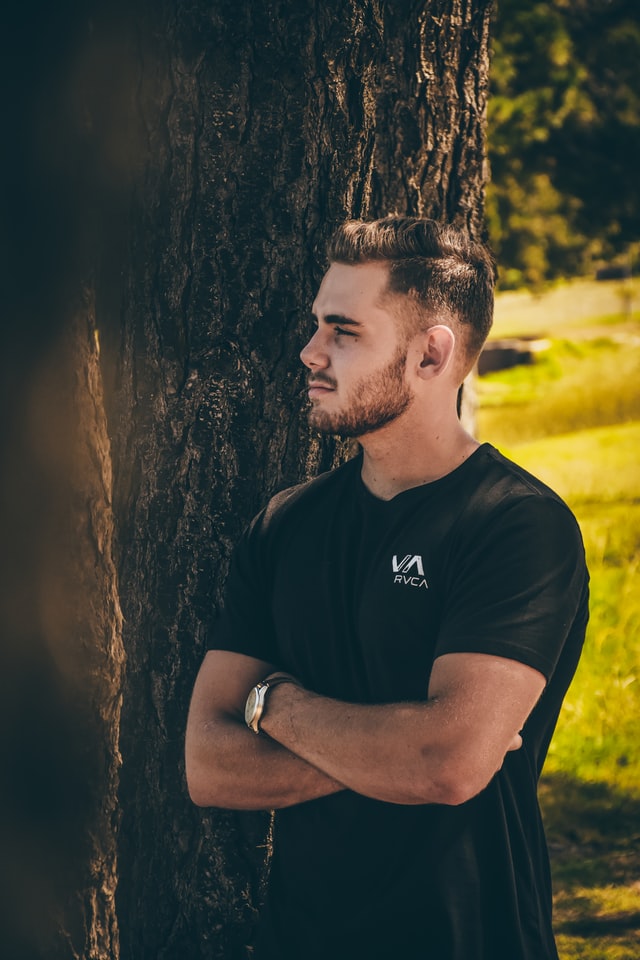 Beards are more popular than ever, and it has become stylish to have a nice thick beard. This can be seen across all walks of life including Hollywood, athletes, and even corporate America. You may not be able to grow a super long beard, but you can make sure that you are growing it as quickly as you can. The biggest problem that a lot of men face is not growing their facial hair out long enough. They may start the process, but after a a few weeks, they are not seeing the results they want. This leads to disappointment and a quick shave.
Growing a beard is an awesome experience, and once you get the length and style that you want, it can feel like a great achievement. This task may not be easy for a lot of men, but there are things that you can do to help. The overall thickness and speed at which your beard grows will depend on your age and genetics, but there is a lot of advice that you can take on how to make your beard grow faster.
As an Amazon affiliate, we may earn a small commission if you purchase an item from one of our links.  This is at no extra cost to you, and it helps to keep our site running.
5 Ways To Make Your Beard Grow Faster
1. Use Biotin Supplements
Biotin, or Vitamin B7, has been used as a hair growth supplement for years. But, does it make your beard grow any faster? According to the experts, Biotin may help if you are deficient in Vitamin B7. This comes naturally in foods like eggs and salmon, so you may not be low, but a lot of men and women take the supplement for hair growth anyway. It is a low cost option, and for people struggling with hair issues, it may be worth it to them to add one vitamin to their daily routine. This supplement is no miracle cure, and it won't make your hair grow like Duck Dynasty in a month, but if you are looking for any and all advantages, then you should take a look at Biotin supplements.
Biotin can be taken for facial hair growth in two forms. It is available as capsules or liquid drops. Just determine which method will be the easiest for you to comply with.
This berry flavored Biotin liquid drops is extremely popular, and it has over 10 thousand positive reviews. These drops boast superior absorption compared to pills, and it has 10,000 mcg per dose. This product is made in an American facility that is GMP-certified.
If you prefer a pill, then you can take a look at Alpha Beard Biotin. This is a total beard formula because it also includes vitamins A, B, C, D, E, Folic Acid, MSM, Collagen, MCT Oil, and Zinc. These are all great things for your beard, and it can help with facial hair elasticity which may reduce brittle hair breakage.
(as with any vitamin or supplement you should consult your pharmacist or physician)
2. Use Beard Grooming Products
If your goal is quick growth of facial hair, then you will need to do everything that you can to ensure it will happen. There are many different products for grooming your beard like shampoo, conditioner, beard oils and beard balms. Do you need to use them all? No, but you should do whatever it takes to improve your overall beard health, and some products can help with that.
At a minimum, we recommend using a beard comb or brush along with one conditioning product like an oil or balm. Combs and brushes are inexpensive, and using one prodcut will keep your beard and skin conditioned and healthy looking.
One of the biggest issues that men face during the growth phase is itchy beard and dry skin. It can be so uncomfortable that a lot of guys don't make it past this stage, and they end up shaving off all of their facial hair. A quality beard oil or balm will help with this stage, and it will also provide vitamins and minerals for your beard hair.
A beard oil will basically condition your hair and skin throughout the day, and if it is scented, it will also smell good. A balm does the same thing, but it has a little styling agent in it like beeswax which will help to tame fly away hairs.
We recommend Bad Ass Beard Care Beard Oil. They have a lot of great scents, and we use this brand all the time. Our favorite scents are The Outlaw (tobacco and vanilla) and The Ladies Man (citrus and vanilla).
For beard balm that has a light hold, you can't go wrong with Honest Amish beard balm.
3. Live A Healthy Life
This may sound like generic advice, but it is important. Your body responds to your living environment, and stressors can negatively affect how your hair and beard grows. Make sure to drink water and stay hydrated. This will help your beard hair from drying out as well as the skin under your beard. If your beard itches too much, you run the risk of wanting to shave it off, then you have to start all over.
At some point down the road, you are going to try to grow a beard again, so you might as well do it right this time by drinking a lot of water and eating right. As we discussed about Biotin, you need the right vitamins and mineral to make your beard hair grow to its full potential. The overwhelming majority of your nutrition will come from your diet, so it needs to be sound.
4. Don't Trim It Down
At some point when you are growing your beard, it will reach the ugly phase. During this time you may want to trim it down or thin it out a bit. Even the tiniest cut with a beard trimmer can shave days off of your growth. Guess what? It is going to do the exact same thing in the next few days, so why trim it down?
This is when it is important to use a beard comb or brush along with a beard balm if you need to lay it down a bit. You can get this set for a low cost, and it will help you in the long run.
5. Style And Shape Your Beard
After several weeks a lot of men become disappointed in the way their beard looks. When you look at other guys who have grown these thick and full beards, you have to remember that genetics and age play the biggest role in how your beard grows.
There may be parts of your face that does not have a lot of hair follicles, and unfortunately there is nothing that can be done about it. But, if you want to continue growing your beard with confidence, then you have to work with what you have.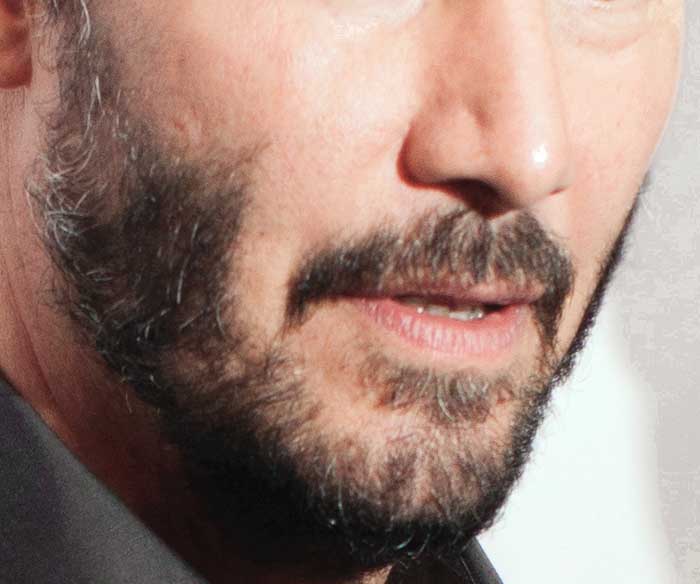 Take Keanu Reeves and his beard. He has a patchy beard that a lot of guys would be disappointed in, but he makes it work. He has unique follice growth on this cheeks, and he has a lot of patchy spots, but he trims around those issues.
Find the best parts of your facial hair growth and keep going with that part. You many need to shape your cheeks or only grow a goatee, but if you look at a lot of other men's beards, you should be able to find a style that will work with your face.