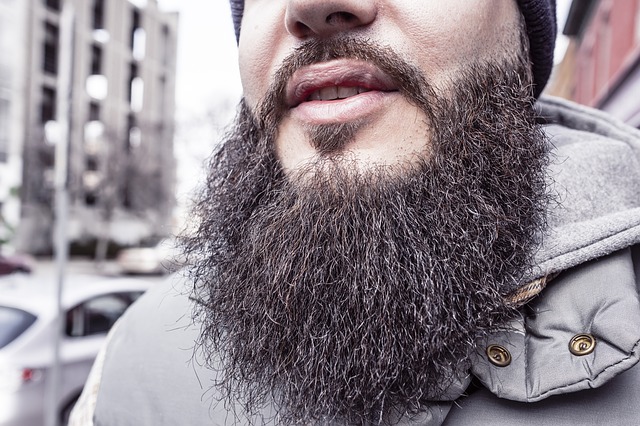 Sometimes when you wake up in the morning your beard can have a wave in it. Generally this happens to guys with longer and thicker beards. For other men, their facial hair just will not grow straight. You can take steps to train it to go a certain way, but if you have naturally wavy beard hair, then you will need to take action to get it straight.
For a lot of men, their appearance is very important, and sometimes, a messy looking beard can give the image of poor hygiene or cleanliness. Now, us bearded guys know that just because your beard is not perfectly straight, it does not mean that we are not taking care of ourselves. It certainly doesn't mean that we don't care how we look.
The overwhelming majority of men with beards do care about their appearance which is why the beard grooming industry has boomed in the last decade. There are so many products now that are designed to improve how beards look.
If you prefer to have a straighter beard, there are steps that you can take to do this.
How To Straighten Your Beard
The best way to remove a wave from your beard is to use a blow dryer after your beard has been washed in the shower. You should use a hair dryer with medium heat along with a beard comb to help straighten it out.
Some guys don't even have an issue with curly facial hair, but they would rather have it more straight and styled that way. The great news is that there are steps that you can take to solve your problem.
Time needed: 10 minutes.
Steps To Straighten Your Beard
Wash Your Beard

The first step you need to take to straighten your beard is to wash it in the shower. If you want to give your beard the best chance, a good beard conditioner in the shower will help soften it up. We recommend Bossman Beard Conditioner.

Use A Brush And Blow Dryer

Once you have towel dried your beard, you will need to take a round boar bristle brush and curl it under the wavy part of your beard. You will then need to twist the brush up away from your face to straighten your facial hair. Take a beard comb and while holding it in place, blow dry it on medium heat with low speed.

Brush It Down

In the final step, use a boars bristle beard brush like to brush down your hair. If you would like this to last longer, or if you have a stubborn beard that doesn't like to stay straight, then you will have to get some wax designed for your beard. These steps should help remove beard waves so that you can get the style you want.
Best Products To Remove A Wavy Beard
For a beard conditioner, we recommend:
---
For a beard comb, we recommend:
---
For a round boar bristle brush, we recommend:
---
For beard wax, we recommend:
---
This video gives a great demonstration on how to get rid of the wavy facial hair.
---
Dan C Bearded does a great job in the video of demonstrating the steps needed to get rid of waves in your beard. At a minimum, you will need a brush or comb and a hairdryer. Remember that you do not need to use high heat, and do not get it too close to your face because you could damage your facial hair.
Depending on your beard, it may be easy to get rid of the wavy look by using a brush and a blow dryer. But some men may find it to be a more daunting task. For guys like this, we do recommend that you get a nice beard wax or at least a heavy duty beard balm.
Balms and waxes will help to style your beard a little bit. Beard balms are generally used for some styling and conditioning, so they generally offer a light hold. Waxes on the other hand are designed for styling. They are heavier and thicker, and they are designed to hold your hair in place. That is why it is such a great product for men with stubborn beards that won't straighten out.
Frequently Asked Questions
Is straightening your beard bad?
If you are straightening your beard on a regular basis, then you should start using something like a beard oil to put moisture back into your beard hair. Repeated use of hot air on your beard can damage your beard, and it can dry out your skin.
Does beard oil straighten your beard?
Beard oil by itself will not straighten your beard. You will need to use a proper brush along with a hair dryer to straighten it. Beard oil will condition your beard which will allow it to be combed easier.
How do I keep my beard from curling?
To keep your beard from curling, you will need to use a beard wax. If your follicle produces a curly beard hair, then the only way that you can straighten it out is by using a product like wax to hold it in place.