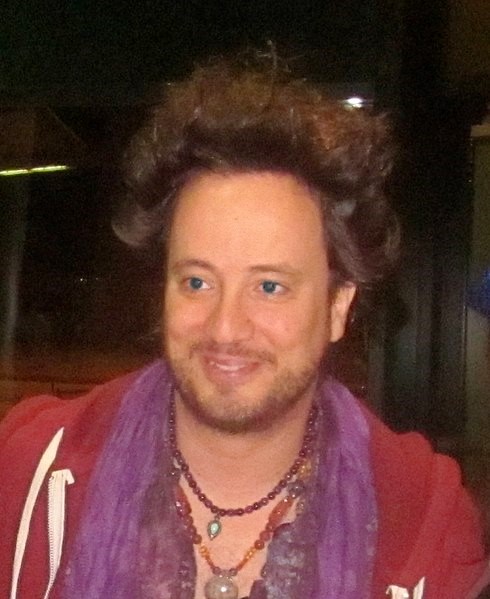 We have all seen the meme right? The one with the guy with wild hair on the History channel. So, who is the Aliens Guy? This man is none other than Giorgio Tsoukalos.
Giorgio is famous for his appearances on Ancient Aliens which looks at the idea that ancient aliens interacted with early humans.
He was born in Switzerland, and he attended Ithaca college in New York. Initially he worked in sports promotions. Specifically, he worked in bodybuilding promotion.
Currently, he is the Director of the Center for Ancient Astronaut Research which is run by Erich von Daniken. If you are into aliens, you should check out his book. He is also a consulting producer for the Ancient Aliens television series.
All of this makes the general public refer to him as the "alien guy." A good place for a meet and greet is the annual Alien Con conference or a History Con.
Giorgio Tsoukalos Hair And Beard
In addition to the "aliens" statement, his rise in stardom no doubt has come from his "mad scientist" style hair. This unusual hair style, along with his beard has sort of become his trademark image.
Newer pictures of him do not show this wild hair style, and it is tamped down quite a bit. So, for people who keep up with him and his shows, they know he is not defined by this crazed hair, but for people who just know him from the meme, that is his identified look.
In a reddit interview, he mentioned that his hair is not due to letting it just run wild, but it is styled that way and he uses lots of hairspray to get it to look that way.
Giorgio Tsoukalos Net Worth
According to Celebrity Net Worth, he has a net worth of around $4 million dollars. As of 2020, his net worth is probably closer to $5 million now.
Who Is Giorgio Tsoukalos Wife?
Giorgio's wife is Krix Beeble. They maintain a private personal life and they are not attention seekers. They were married in 2013. While her name may be unusual to some, she is an American from Florida.
Giorgio Tsoukalos Necklace
Another trademark of his look are the exotic necklaces he wears. So, where can I get a necklace like Giorgio?
Well, you may be in luck! His necklaces come from his wife's Etsy store Krix Beeble Creations. If you are looking to mimic his style, then you should try to grab one from her store. The look of The Aliens Guy cannot be complete without the necklace.
If that is not an option, you can always take a look at something like this.
Ancient Aliens Guy Giorgio Tsoukalos Costume
To dress up like Giorgio, you need to get several things. First, you need to grow a beard. While this isn't super necessary, it definitely looks better.
You also need to grow your hair out a bit if it is not long or bushy yet. Go get some hairspray. You will need lots of it.
You will need to create a sign that says something like "Aliens" or "Aliens, Man." Feel free to make the sign like a meme. You can even make it about current events.
A tan safari style shirt helps to make the image.
You can use any pants or shorts that match. If you have the hair, the tan shirt, and the sign at a minimum, people should be able to recognize your costume. A necklace and beard will seal the deal.
Giorgio Tsoukalos Meme Generator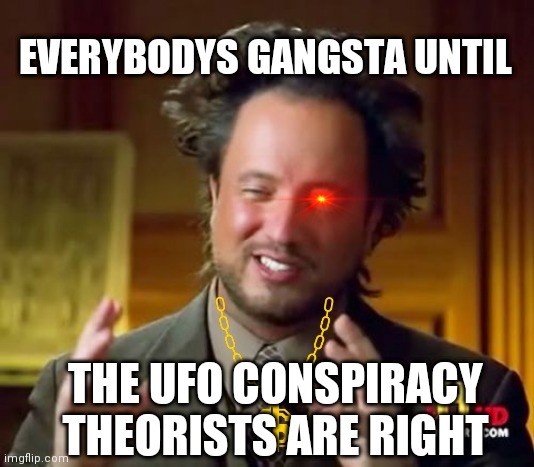 If you are interested in the "Aliens" meme, you can check out this meme generator
https://imgflip.com/memegenerator/Ancient-Aliens
The Aliens Guy Summary
The Ancient Aliens Guy has become quite popular, and he has very entertaining shows. People who I have spoken to has said he is an extremely nice person and loves his fans.
He understands that some people think he is crazy, and he has also admitted he understands that his ideas and theories seem crazy, but it is also good to question things.
https://commons.wikimedia.org/wiki/File:Tsoukalos_NOLA_Comic_Con_2012_A.JPG