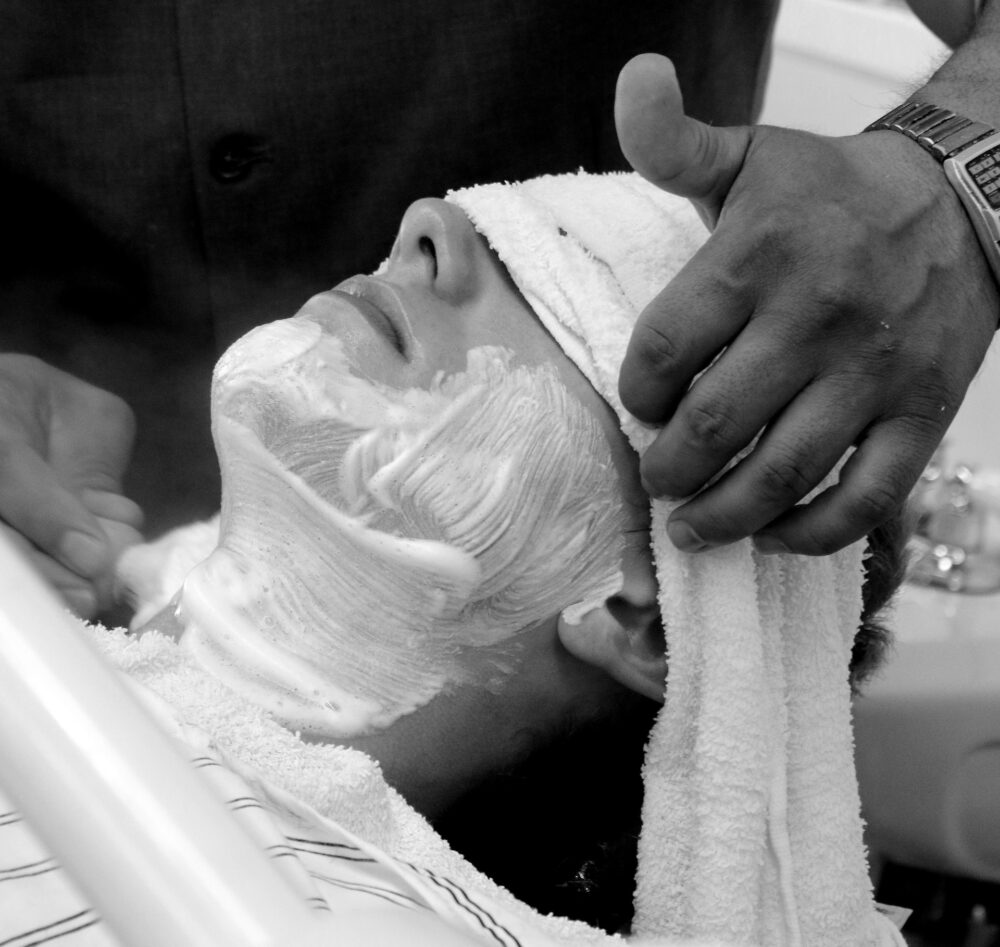 No matter how long you have been wet shaving, Arko Shaving Stick seems to always pop up.  Every vendor carries it, the packaging looks nice, and it has been out for what seems like forever.
At some point, almost every double edge razor user has added this to his cart wondering if he should get this soap.
We will review Arko to help guide you to understanding this shaving soap.
As an Amazon affiliate, we may earn a small commission if you purchase an item from one of our links.  This is at no extra cost to you, and it helps to keep our site running.
What is Arko Shaving Stick History?
Arko is a shaving soap in stick form.  It comes from Turkey, and it has been in production since the mid 1950's.  It's claim to fame is the cost.  It may be the cheapest shaving soap in the world.
It is a tallow based soap and comes in stick form.  The packaging is a classic 50's style look with a red wrapper on the outside of a foil wrapper.   It has the image of a clean cut gentleman on the front with lather on his face.  Obviously, he looks very happy.  Must be something in those Turkish soaps.
The shaving soap stick weighs 75g.  It is about 3 1/4 long with a diameter of about 1 1/4.
What Does Arko Shave Soap Smell Like?
Arko shaving soap smells like clean, lemon soap, with some notes of citronella. The overwhelming majority of people, including the staff at Beardedblade, think the scent is just a nice clean soapy smell.  Not a great scent, but certainly not off putting.  The people that do not like the scent seem to come around after a week or two of letting the soap sit out unwrapped.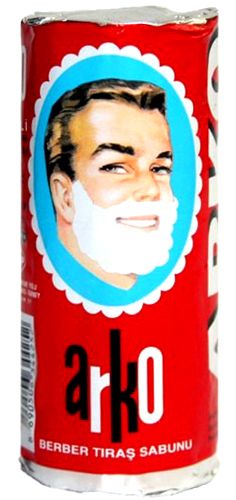 Arko Shaving Stick Ingredients
Here are the ingredients for Arko:
Ingredients: Potassium Tallowate, Stearic Acid, Potassium Cocoate, Aqua, Sodium Palm Kernelate, Glycerin, Parfum, Parafinium, Liquidum, Tetrasodium EDTA, Etidronic Acid, Disodium Distrylbiphenly, Disuffonate Amyl Cinnamel, Citronellol, Geraniol, Hexyl Cinnamal, Linalool
How to Use Arko
There are 2 different ways to lather your face with Arko shave soap:
Stick To Face
Bowl Lathering
Shaving Brush To Shaving Stick
Stick To Face Method
The intended way to use it is the shaving stick to face method.  Simply peel back some of the wrapper, wet your face with very warm water, and rub the end of the stick all over your stubble.
Once your face in covered in Arko, simply take your damp shaving brush from your shaving soap bowl, and face lather.  When we tested Arko, this is the method that we used. You can read here for more information on how to use a shave stick.
Bowl Lathering Method
A lot of wet shavers use a shaving mug to bowl lather, and Arko can be used that way as well.  You simply need to find a way to get some of the soap off the stick into your bowl.  Some people recommend using a grater, and I have seen people use a knife like they were shaving a pencil.  Once you have the shavings in your bowl, simply mash them down into the bowl.  Now, you can bowl lather like normal.
Brush To Stick Method
This may seem a bit awkward, but it works.  Simply take a shaving brush that has been soaked in warm water and rub the stick in your brush until you get enough soap in it.  Then, face lather.
Is Arko A Good Shaving Soap?
In its own right, Arko is a good shaving soap that provides decent glide and slickness. Arko has a very loyal following.  In our experience, and in the overwhelming majority of the reviews that we read or watched, Arko produces great lather.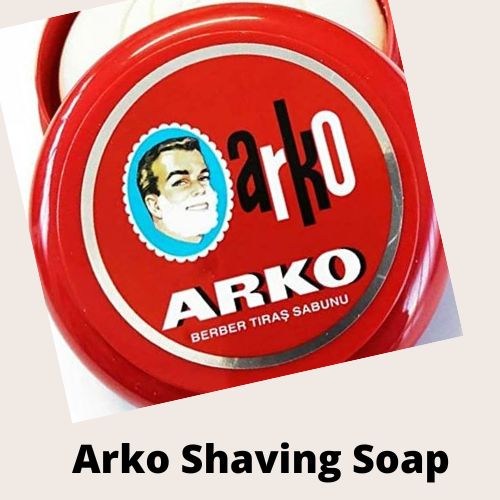 It has plenty of slickness and cushion, and it provides a very close and clean shave.  It was not the most moisturizing soap that we have used, and others have shared that experience, but nothing so notable that would turn us off to using the soap again.
Would we use this on a regular basis?  No.  This has nothing to do with performance of the soap.  It has to do with 2 things.  One, the scent is just ok, and with so many choices out there, an ok scent just does not cut it.  Second, we prefer soaps in tubs or creams in tubes.
What We Like
Inexpensive
It is a traditional product that every wet shaver should try
Easy to travel with
What We Don't Like
Some guys claim it has a urinal cake smell
Many other products that offer better performance
Do We Recommend Arko?
Yes, we do.  If you read a lot of our content, you will learn that we like the traditions, history, and nostalgia that wet shaving offers.  Arko falls right in line here.  The cost is around one or two dollars, and it is a great addition to your next wet shaving purchase.
You can buy one soap stick, and it also comes in packs of 2, 3, and 12.
Arko Shaving Soap In Bowl
Arko does have their shaving soap in a bowl if you are just dead set on not getting the stick.  It does cost a little more, but it is 90 grams vs. 75 grams for the stick.  It comes in a red plastic tub with a screw top lid.
The scent is the exact same, and some reviewers say that the bowl has a slightly stronger scent.
The ingredients are the same as the stick, except that they are not in the same order.  This means that they use a higher ratio of coconut oil in the bowl which may explain the firmer texture.
Conclusion
Arko should be a product that everyone tries at some point.  It has a history and it is a very low cost item to add to an order. It is