Beard butters are the newest beard care products to hit the market. These products are basically a cross between beard oil and beard balm, and they are designed to condition and nourish your beard. Usually, these are chock full of natural butters and oils, and it is has creamy semi-solid consistency.
Beard butter is usually made without styling agents like beeswax, and the ratio of solids to liquids is designed to keep a smooth creamy consistency. That doesn't mean they can't contain wax, because some of them do, but the purpose is to thicken the product or give it a touch of hold. The main purpose is to condition and nourish your beard hair as well as your skin.
Butters come in different consistencies from hand lotion style, whipped, and even similar thickness to balms. We don't consider lotion consistency or balm-like products to fall into the "butter zone." There is no standard definition, so any company can take a beard balm and call it a butter. For us, a butter is firmer than a lotion and softer than a balm. If you need a guitar pick to remove it from the container, it's not a butter (in our opinion.) We understand the argument can be made either way on how to define this product, but we have to set a guideline for our review, or we would have to include a much larger product list.
We have reviewed and tested so many different beard butters, and we have developed a list to help you find the right ones for you. Hopefully, our guide will help your decision when you decide to purchase.
By clicking an affiliate link to Amazon, we may receive a small commission on qualifying purchases. This is at no extra cost to you, and it helps to keep the site running.
Our Beard Butter Top Picks
Best Overall Beard Butter
1. Detroit Grooming Belle Isle Beard Butter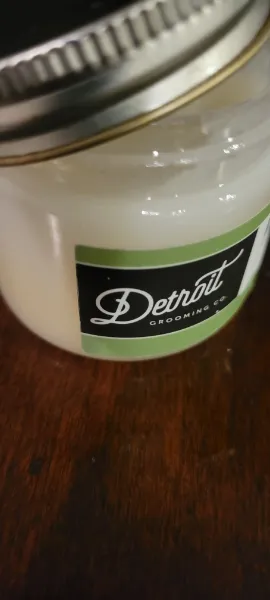 Hold: Light To Medium
Scent: Vanilla, Tobacco, Cedar
Pros: Comes in 2 ounce and 4 ounce jars
Cons: Jar opening is too small
Detroit Grooming beard butters are widely known as some of the best in the industry. They are intensely moisturizing, and full of antioxidants and proteins.
Their butter's ingredients are the exact same as their beard oil with the addition of shea butter, coconut oil, and beeswax. Beeswax is common in balms, but there is not a lot in it because the butter is smooth and creamy with little to no hold.
The butter has a medium density and it is not whipped and airy. When you apply it to you beard it does a great job of coating all of your beard as well as the skin underneath it. It lasts throughout most of the day. I also like to use it during the night. It does a great job of nourishing your beard, and it will keep it soft.
Belle Isle has a clean and citrus scent. The lavender is not strong, and it does not smell like cheap lavender that is found in a lot of beauty products. Real lavender has a fresh and herbal scent that leans masculine. I can get around 6 to 8 hours of scent from it.
Best Smelling Beard Butter
2. Beard Octane Liquid Gold Beard Butta
Hold: Light To Medium
Scent: Sea Notes, Amber, Oud
Pros: Great Scent and Absorbs Quickly
Cons: Comes in larger 4 ounce size which costs more than others
Beard Octane Liquid Gold smells amazing. It has aquatic notes of ocean air and sea salt mixed with notes of leather, oud, and amber. It is super fresh and masculine at the same time. You really need to try this.
It has It has skin and beard nourishing butters like shea and mango, and it contains oils like coconut and sweet almond. We like their beard butter because it contains a perfect blend of liquids and solids.
It also contains arrowroot powder which is used as a thickener in cosmetic products. It also helps to create a product that is less sticky and non-greasy.
This is a quick melting whipped butter, and it has a great feel to it. If you haven't tried Beard Octane's beard butta yet, you are in last place.
You can check out their awesome beard butter at their site, and if you use our discount code BBLADE, you should receive 10% off your order.
Best Beard Butter For Growth
3. Live Bearded Executive Beard Butter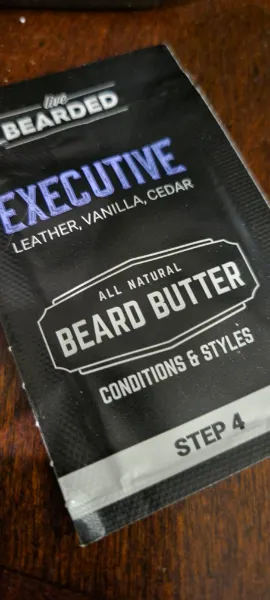 Hold: Light
Scent: Vanilla, Tobacco, Cedar
Pros: Great Return Policy
Cons: Scent could be a little stronger
Live Bearded beard butter is made for deep conditioning and light hold. They utilize a shea butter base with carrier oils like avocado oil, almond oil, coconut oil, jojoba oil, and grapeseed oil. If you try something, and you end up not liking it, they currently offer a 365 day return policy (as of date this was published.)
When you put your finger in the beard butter, it is super soft and creamy. It does a nice job of melting in your hand, and it spreads evenly in your beard.
This is an extremely smooth butter, and it is so much better than their older version. We highly recommend you try the new formula. It is super creamy, and they use essential oils for scents which we love.
You can use coupon code BBLADE10 and you will receive 10% off your order if you order direct from their website.
Best Beard Butter For Black Men
4. SheaMoisture Full Beard Detangler
Hold: Light To Medium
Scent: Almond
Pros: Inexpensive
Cons: Specific for curly hair and scent is very light
SheaMoisture is designed for curly and textured hair. It has a lot of great ingredients in it like shea butter, Argan oil, and Aloe Leaf Juice.
It comes in a squeeze tube, and when you put it in your hand it looks and feels like a light hand lotion. It does not absorb quickly into your hands like most of the others on our list. It feels a little heavy in the beard, but it does absorb once you comb it in.
It has a nice pleasant scent that is hard to describe. It is very faint and hard to pick up at times. It is almost like a sweet almond vanilla scent. If you prefer lighter scented products, then you will like this.
Best Of The Rest
5. Fresh Beards Black Light Beard Butter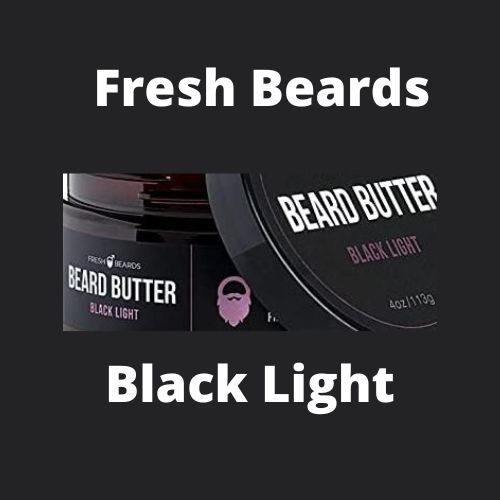 Hold: Medium
Scent: Cologne Scent
Pros: Strong scent that lasts a long time. Also has 2 sizes to choose from
Cons: Scent can be too overpowering for some guys
Fresh Beards was established in 2015, and they have made a name for themselves in the bearded community. Their beard butter is a shea based product that is made to be more natural and less oily.
This is a little on the thicker side, but it is an all around solid performer. The scents are great, the company is great, and the butters feel amazing. Black Light is probably their most popular scent which is a nice cologne style scent. It's on the stronger side, so if you like that then you should go for the Black Light. If you prefer light scented products, then you would do better with something else on our list.
6. Grave Before Shave Beard Butter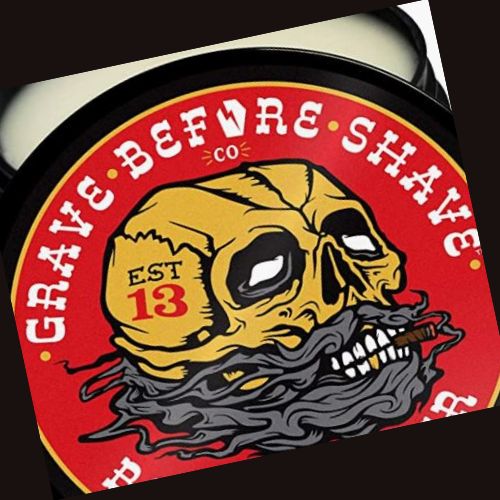 Hold: Medium
Scent: Vanilla, Cigar
Pros: A little goes a long way
Cons: Leaves a lot of product on your hand after use
Grave Before Shave beard butter uses a combination of butters and oils to provide a nice creamy butter. They use shea butter and mango butter along with several carrier oils to provide a product that can cover a beard.
Their butters come in a 4 ounce tub, and these are beast mode when it comes to melting. Your hands will be coated in all sorts of butters and oils. Maybe it's the Aloe Vera in the ingredients, but this stuff spreads very well. This is great for you bigger bearded gentlemen. When I use this, I generally use a smaller amount because it spreads so well.
Our top pick is the Cigar Blend which is a smooth cigar and vanilla scent. The dominant note I smell is vanilla with some mild spices and a soft tobacco scent. It smells nice, and it is not harsh like some tobacco scents.
Beard Butter Comparison Table
| | | | | |
| --- | --- | --- | --- | --- |
| Beard Butter | Scent | Hold | Size | Cost |
| Detroit Grooming Belle Isle | Orange Lavender | Light – Medium | 2 oz. / 4 oz | $$$ |
| Beard Octane Liquid Gold | Ocean, Amber, Oud | Light – Medium | 4 oz. | $$$ |
| Live Bearded Executive Beard Butter | Leather, Vanilla, Cedar | Medium | 3 oz. | $$$ |
| SheaMoisture Beard Detangler | Almond, Vanilla | Medium | 4 oz. | $ |
| Fresh Beards | Cologne | Medium | 2 oz. / 4 oz. | $$$ |
| Grave Before Shave Cigar Blend | Vanilla, Cigar | Medium | 4 oz. | $$ |
Buying Guide
When it comes to purchasing beard butter, there are several factors to consider.
One of the main factors for buying anything is price. Beard butters come in different sizes with different costs, so you need to look at a price per ounce to determine value.
Most of these on our list are similar coming in around $6.25 per ounce. SheaMoisture was the exception and Grave Before Shave was just a tad cheaper.
You also should consider scent. These companies do offer several other scents, so if you do not like these, try one of the other ones.
When it comes to beards, they are all different, and we all have unique needs for beard products. Hold is how well they keep your beard styled. Generally, beard butters are not designed for much hold. Most of the time, they do include a wax in their ingredient list. These are designed for maximum conditioning. A lot of guys use beard butters at night and then a balm during the day. This way, they will have a soft beard when they wake up. After that, they will use a beard balm for a little more hold.
Brand may not seem important to you but it is. How is the shipping? Is it fast or is it free? Do they offer samples? Brand can be a make or break for a lot of guys.
What Is Beard Butter
Beard butter is a product that is designed condition and soften your beard. It uses natural butters and oils to accomplish this. Some common ingredients found in beard butter are shea butter, avocado oil, argan oil, cocoa butter, and coconut oil. The mixture of oils that are liquid must be blended with solid oils and butters to ensure that the final product is not a hard solid or a liquid.
When it comes to product development, the right mixture is crucial to both stability and performance. Too many solids and you may end up with something so hard that you would need a knife to sccop it out. Too much liquid and you will have a greasy mess or basically a beard oil. Some oils are solid at room termperature, and others are liquid. Shea butter is pliable and kokum butter is very hard. All of these factors must be taken into account during product development.
Beard butters will help your beard whether you have an established beard or you are in the growing phase. It will hydrate your beard, keep it soft, and it will help to control beard itch. These can be used solo or in conjunction with other beard care products. That's what makes them so great! One common product for facial hair grooming that is used in conjunction is beard oil.
We have reviewed some of the best beard butters that you can find, and also some of these beard companies made our best in the business list.
How To Use Beard Butter
Beard butter can be used in multiple ways, and you just need to find the way that it benefits you. It falls in between a beard oil and a beard balm, so it can be used for multiple purposes.
One common area of need for bearded men is overnight beard care. A lot of guys will use oils and balms to help their beard look better, but there is no need for that if you are about to hit the bed. A butter works great here because it is can be used as a nighttime routine. This will provide deep conditioning to your beard all night, and it will help to soften it up before the next day. Of course, you can use oils and balms at night, but they are usually not packed with nutrient dense butters.
You can also use it instead of a beard oil for daily use. They perform similarly, but they provide a little more deep conditioning. This may be something that you prefer, or you may like an oil better. Grab a tub of butter and see which you like better.
If you prefer balms for their hold and their ability to tame fly away hairs, then you are probably going to be happier with them. Most beard butters don't have a significant amount of wax or high amounts of hard butter that will provide a substantial amount of hold. If you don't like balms due to their thicker consistency, then you should grab some of these beard butters because it may be exactly what you are looking for.
Help! My Beard Butter Melted
Sometimes, beard butters will melt in the container once they reach a certain temperature. This of course depends on the brand and what ingredients they use. If this happens to you, there is no need to worry. Just put your container in the refrigerator for an hour or two, and your butter should be a solid consistency again.