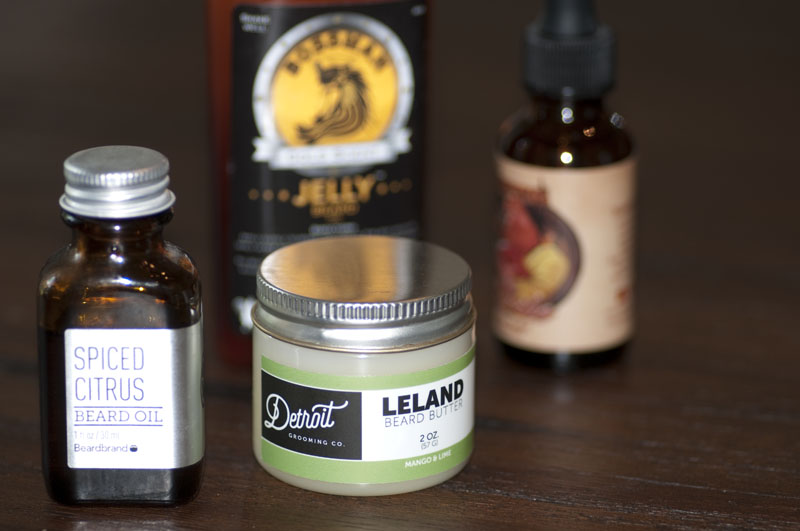 Beards have become more and more popular over the last 15 years. This is due to things like Duck Dynasty, Beardbrand on Sharktank, the rise of the lumbersexual, and many other factors. It is more common to see a man today in an executive meeting at a high profile company in a $2,000 suit with a 8-inch full beard.
Beards of all styles and shapes are more fashionable today, and this can be seen with their popularity in movies. Celebrity beard styles have become so popular that people try to emulate them. Two of the most common movie beard styles are the Ironman or Tony Stark beard style and the Wolverine beard style.
As an Amazon affiliate, we may earn a small commission if you purchase an item from one of our links.  This is at no extra cost to you, and it helps to keep our site running.
You may also be interested in 12 Best Beard Oils: The Ultimate Guide [2020].
How We Rated The Top Businesses of Beard Care Products
Branding
Labeling
Years Established
Ingredients
Scent Varieties
Website
Social Signals
Product Performance
Product Variety
Swag
Price
Shipping
We will highlight a few of these with some explanation:
Branding
There are several factors that are taken into account when looking at the best beard companies. One of these is branding. Branding plays a huge role in determining the success of a business. Beard companies are a dime a dozen, so having a brand that sticks out and resonates with buyers plays a significant role. While the brand is important, you got to have great products, and a large variety helps as well. A company might have incredible beard oil, but if that is really all they offer, it is going to be hard to top one that has 15 different beard products. Companies that have a full line up of beard products like, butters, balms, oils, combs, brushes, and swag are going to generally be rated higher than say a small shop on etsy with 2 products.
Social Signals
Social signals for beard companies are also taken into account. If a brand is making a lot of noise on social media, that helps with awareness and popularity. There are a lot of social factors to consider including YouTube, Facebook, Instagram, Twitter, blogs, and even a simple Google search. So, while the beard company that may be raved about by your 2 favorite YouTubers may not be on the list, please remember that there is a whole world of beard outside of just YouTube. This also goes for other social media platforms. Beard care products are a very competitive industry, so if you show up on the first page of Google for popular search terms like "beard oil" and "beard balm" then you either paid someone a lot of money to get you there, or you are an industry leader and got there by being considered relevant to Google.
Price
Price is also taken into account when we look at beard product companies. Now, there is nothing wrong with expensive products. If a brand can get buyers for a $50 bottle of beard oil, then they are doing something right. When price is considered, we look at how that dollar amount is justified. It is not difficult to make a beard oil, and you can make a small batch of 50 for little cost. Packaging, shipping boxes, labels, logo design, ingredients, fragrance, advertising, affiliate programs, product development, and a whole lot more need to be considered when it comes to pricing. Some brands should charge higher than average, and some should be lower than average. For example, one company I know charges average price for their beard oil. The problem is they are using only one carrier oil that can be purchased at the grocery store, it has no fragrance, and the label is a cheap sticker on a bottle.
Ingredients
Ingredients are also a big factor for us. We do not like products that use chemicals instead of natural oils and butters. There is no need to use silicone based lubricants to save a few pennies when natural oils do a better job. Personally, we prefer the use of essential oils for scent in beard care products, especially leave in prducts like oils and balms. Essential oils smell more natural and synthetic fragrances that you purchase from manufacturers do not have to disclose what synthetic components make up the fragrance. Many of them consist of 100's of individual synthetics. We don't want to sound all alarmist here, we use beard products with synthetic fragrances, and many companies use them. And, that is ok, but we prefer natural essential oils for scent. The overwhelming majority of all grooming products sold in the USA don't use natural scents, and to the majority of people, there is zero issue with it. There are numerous companies on our list that use synthetic fragrances as well as premade fragrance blends that anyone can purchase, so we don't exclude that at all. There is nothing wrong with it, but we prefer essential oil or at least some options in the lineup.
The Best Beard Companies
Beardbrand
Beardbrand is one of the pioneers in the beard community, and certainly one of the best beard companies in the world. No, they were not the first to offer beard grooming products, but they were one of the first to heavily promote the bearded lifestyle. They did this through social media and blogs. It certainly didn't hurt that they were on Sharktank which received millions of viewers, and that show is a great way to develop brand awareness.
They have been constantly changing which can be either good or bad. Some of their product line was taken off their site and sold exclusively at Target, then later they changed pricing and formula in Spring of 2020. They also changed packaging on their beard oils as well.
Their product offerings consist of several different categories of grooming products for your beard. They have beard oils and utility balms which are the two most common products for beard grooming.
For cleaning they have beard wash and beard softeners. For styling they offer balms, waxes, combs, brushes, salt spray, and scissors. These are not inexpensive products, but they are high quality, and everything about them is done right. They also offer nice kits and fragrance samples.
If you are taking a look at their beard oils, we highly recommend their gold line. Their silver line is not bad, but these are common scents that can be found at almost any other beard company and the scents are not as unique as their gold line.
In addition to their products and website, they are very active in the bearded community. They have a wealth of information available via social media like blogs and Youtube, and they are very active with customers on Facebook. This goes a long way knowing that if you have a question or complaint you can easily reach someone via multiple platforms. This also helps to promote beards, and with the help of Beardbrand and tons of other people and companies, beards have become more acceptible and main stream.
A simple Google search for "beard oil" and Beardbrand lands on page 1 which is no easy accomplishment, and shows Google's trust in the brand.
In addtion to beard grooming prodocuts,they also offer swag and other products. They all fall in line with grooming and helping improve your style and image.
Why Is Beardbrand A Top Rated Company: Beardbrand pumps tons of time and energy into the bearded community to help men improve their beard game as well as their overall confidence and appearance. They are very active in the community, and they offer a wide assortment of beard products. Their branding and packaging is superb, and their website is well laid out.
Social Media Followers:
Facebook: 121,000 / Instagram: 169,000 / YouTube: 1.2 million
Average Prices:
Beard Oil: $25
Utility Balm: $32 (3.4 oz)
Styling Balm: $32 (3.4 oz.)
Badass Beard Care
According to BABC, their mission statement is to "Inspire men to unleash their inner badass by providing inspiring content and premium products that promote healthy skin and beard hair growth."
This is a complete beard care company as they offer a full spectrum of products for your beard including, oils, balms, butters, waxes, washes, vitamins, and tools.
If you start your journey into beard care and have a Facbook account, they will likely show up on your feed for their trial pack offer. This is a great way to explore the brand, and it helps you figure out if you like their products and their scents. Our personal favorites are The Outlaw and The Ladies Man.
We really like their use of natural ingredients. This also includes their use of essential oils for scents instead of using premixed synthetic fragrances.
BABC, like Beardbrand, also lands on page 1 for the Google search "beard oil."
Social Media Followers:
Facebook: 351,000 / Instagram: 48,000
Average Prices
Beard Oils: $15
Beard Butter: $25 (3 oz.)
Beard Balm: $13
Texas Beard Company
Texas Beard Company comes in as an old school beard company, and most of their scents reflect their natural and outdoorsy branding. Some of their popular scents are Big Thicket (pine and cedar) and Clove Citrus (citrus and clove.) This was one of the first beard companies that we tried, and we have stuck with them for years.
They also provide beard wash, but it comes in the form of bar soap designed for your beard. This may seem pricey, but you do get a 6 oz. bar, so if you are not a fan of liquid beard washes, then you should check out what Texas Beard Company has to offer.
Social Media Followers:
Facebook: 76,000
Average Prices:
Beard Oil: $16
Beard Balm: $20
The Bearded Bastard
TBB was founded in 2011 by Jeremiah Newton. Jeremiah developed beard care products for his mustache, and his products became a hit locally. Over time, word spread about his products, and they have been featured in multiple publications including GQ and Men's Journal.
TBB has a signature wooden label that distinguishes itself from the crowded market, and they have multiple products to choose from including beard oils, balms, and waxes.
Social Media Followers:
Facebook: 27,000 / Instagram: 25,000
Average Prices:
Beard Oil: $25
Beard Balm: $25
Detroit Grooming
Detroit Grooming has it all. Beard oil, balms, beard butters, waxes, washes, conditioners, shaving products, hair & body products, and swag. One of the things that we really like about Detroit Grooming is their signature scent, Corktown.
While many of their scents seem to be made from artificial fragrance, they do have an all-natural product lineup if you prefer not to use synthetic scents. We like their use of backgrounds and stories to highlight their scents.
Their latest release is 313 which is scented like toasted vanilla and amber.
Social Media Followers:
Facebook: 30,000 / Instagram: 20,000
Average Prices
Beard Oil: $23
Beard Butter: $16
Beard Octane


Beard Octane is fuel for your beard. This beard care company has great a great brand and we love their it. Their signature black and red is hard to miss. The bearded community on YouTube played a big role in hyping this company up. They are only a couple years old, and they seem to be gaining steam every month.
Their branding is sharp, their website is well designed, and everything about this brand looks great. Either the owner is great at branding and design, or he hired someone who knows what they are doing for brand design. Either way, our hats off to the great work. If you are looking to get into the beard business, take notes from Beard Octane.
Beard Octane seems to find success with a lot of cologne style scented products and niche scents like Apple Pie. They offer a wide assortment of beard care products like beard oil, beard balm, beard butta, supplements, accessories, swag, and more.
Google has also graced Beard Octane for a page 1 ranking for the term "beard balm," and like we said earlier, if you are one page 1, you are doing something right.
Social Media Followers:
Facebook: 5,500 / Instagram: 11,000
Bossman
Bossman brands is known for innovation, and you need to look no further than their beard jelly for something unique, yet effective. Their signature beard jelly boasts "Thicker, lasts longer, and outperforms traditional beard oil." Our favorite scents are Stagecoach and Gold.
In addition to beard jelly, they offer beard oil, balms, conditioners, supplements, wax, and much more. If you need something for your beard, you should be able to find it here.
Social Media Followers:
Facebook: 29,500
You can purchase Bossman from Amazon or direct from their website.
Average Prices:
Beard Jelly: $20
Beard Oil: $10
Beard Balm: $20
Fresh Beards
Fresh Beards is your all around homegrown American made beard company. Well known for their Beard Butter, these guys will do your beard right. If butter isn't your thing, (it should be) then you should be able to find something you like.
Fresh Beards offers pretty much everything you can use for your beard including beard oil, balms, butters, gear, swag, and more. They have a large assortment of scents, including some all-natural ones like Woodland.
Social Media Followers:
Facebook: 140,000
Average Prices:
Beard Oil: $15
Beard Balm: $15
Beard Butter: $20
Live Bearded
Live Bearded was founded as a way "to create a community of men where we can uplift and encourage each other to do better every single day." They don't have an overwhelming abundance of scents to choose from, but that should not stop you from checking them out. All of their scents are very successful, and each one has hundreds of positive reviews.
Live Bearded did change some things up with their products and packaging this year (2020), and they haven't missed a beat with delivering quality products.
Their most reviewed scent is Legend which is Sandalwood and Vanilla. We highly recommend checking out their beard butter.
Live Bearded is active on social media, so be sure to check out some of their beard resources.
Social Media Followers:
Facebook: 318,000 / Instagram: 52,000 / YouTube: 60,000
Average Prices:
Beard Butter: $20
Beard Oil: $18
Scotch Porter
In addition to beard care, Scotch Porter is a complete men's grooming company, and their packaging is extremely professional looking.
If you are looking for a complete shower experience for your beard, then Scotch Porter is a brand you should check out. They offer everything that you need for your beard, plus they have a line for your face and hair. We have not tried any of their hair products, so we cannot comment on how good/bad they are. Their products hav a great reputation, and their brand has quite a following. Their products have also moved into retail spaces as well.
Social Media Followers:
Facebook: 84,000 / Instagram 77,000
Average Prices:
Beard Balm: $15
Beard Serum: $20
Beard Conditioner: $19
Honorable Mentions
These are a few beard companies that were close, but just not quite there. Are these great businesses? Why, yes they are, and we recommend giving them a shot if you haven't.
Fable Beard Co.
These guys are unique, and if you are looking for a brand that you can invest your beard in, then Fable has a story for you. At Fable, "Every Beard Has A Story." If you are familiar with video games like Guild Wars or Wow, then the character illustrations at Fable will resonate with you. They have a solid reputation, and we have enjoyed their products.