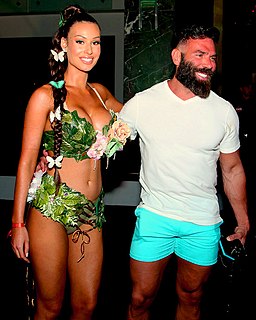 Dan Bilzerian is the ultimate party animal who is known for his lavish lifestyle. He is a social media icon with over 30 million followers on Instagram which earned him the nickname "The King of Instagram". That number doesn't include the millions he has on other social networks. He gets millions of likes on almost every post he makes, so he has no shortage of fans.
While he is widely known for his social media presence, he has also been in film, and he is a professional poker player. According to GQ, he is a self-described venture capitalist.
When we say this guy has a lavish lifestyle, we mean it. His Instagram feed is littered with women, bikinis, weight lifting, women, yachts, pools, parties, women, travel, beaches, food, and guns. His feed is like 90% of what young men fantasize about. No boss, no rules, plenty of cash, and women galore. He has purchased pretty much every "when I get rich, I'm going to get this" item there is. Boats, jets, mansions, cars, guns, security, and just about everything else under the sun.
Obviously, everything that Dan Bilzerian has is due to his beard (hey, we admit that we are a little biased at Beardedlbade.) While his beard is impressive, it has not reached Tony Stark status yet. The Ironman beard by Roger Downey Jr. is one of the most recognized world wide.
People who have spent time around him say that he is a super nice and fun guy.
Dan's Time In The Navy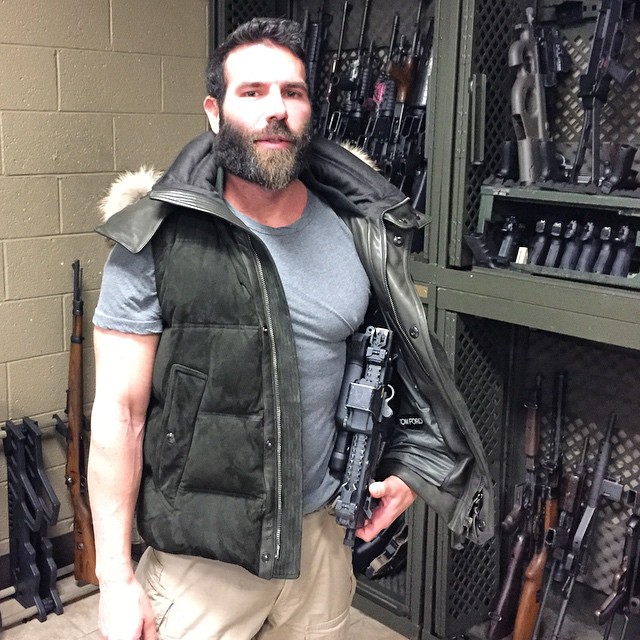 Dan grew up in Tampa, Florida in a wealthy home. His father was a graduate of Harvard Business School, and he was always working. Because of his schedule, he was not around a lot for his sons. Bilzerian has mentioned in interviews that maybe he does wild and crazy stunts to act out and get attention now because he didn't get the attention he needed when he was younger.
He did not graduate high school, but he did get his GED. After high school, he enlisted in the Navy because he wanted to become a Seal. During boot camp, he had really bad leg pain, and he got put on a medical hold. He was later cleared and sent to Seal training. His leg pain got worse, and he was kicked out and sent to a ship. He was supposed to be on crutches, but this CO wouldn't let him. While visiting the doctor, he got a Nuclear Bone Scan done on his legs, and he was told his legs were basically destroyed and that he had bilateral stress fractures. This means that the first time he went through BUD/S training (Basic Underwater Demolition/Seal), he had broken legs. He was told that he could be medically discharged which would mean that he would receive a pension for life.
Bilzerian said no, and requested to go back to Seal training. He was told that he was insane. Seriously, most people would have taken the discharge and the pension. He was allowed to go back into Seal training, and 2 days before it was over he got rolled back to the beginning. It was due to a bad attitude and he wasn't worried about most of the other guys in the class. He did get a safety violation along with half of his class for following orders, but the CO obviously didn't see it that way. He got another safety violation for falling asleep during a live fire drill because his bunker leader did not wake him because he didn't like him.
This brings us to the third time he went through Seal training. He went through it again, and his CO, who did not like him, admin dropped him.
How Did Dan Get Rich?
After the Navy, he enrolled in college at the University of Florida. This is where his gambling started, and poker became a way to make money. He played with people while in college. He was getting money from his time in the Navy while he attended school. His disability allowance was around $6,000 dollars per month, so he was not your typical broke college student.
Dan Bilzerian got rich from playing poker. His brother taught him how to play, and he played some home games as well as online. He spent 3 weeks at the Bellagio where he won $187,000 which kicked off his run on getting rich playing poker.
During this time, poker became a big thing. Celebrities were starting to play, Rounders came out a few years prior in 1998, and this was the new way to get rich if you knew what you were doing.
He had a lot of charisma at poker events and tournaments, and he drew a lot of attention. He soon became widely known in the poker world, and he even played with celebrities.
Dan Bilzerian Is Surrounded By Girls
The King of Instagram is known for his parties. According to the New York Post, his rules are this, "If you come with ugly chicks, you won't get in; I keep the parties exclusive and it becomes a matter of there being only so much space." With that attitude, I am sure that he turned off so many people. Wrong! Women are lining up and begging to come to his parties. "They'll text pictures of their [bare butts] and for sure offer to hook up with me," he said. "I get that a lot."
This is generally how most guys go to bed, right?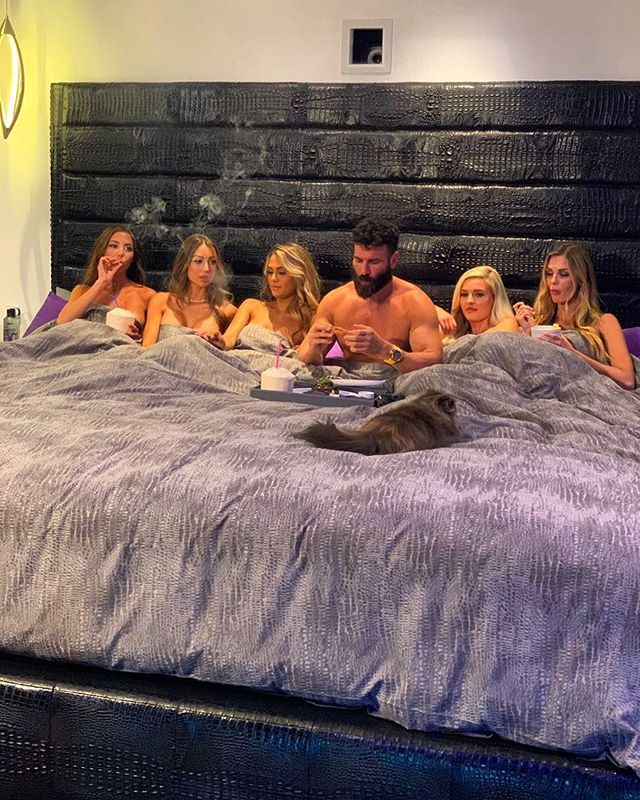 Like we said, Dan is always surrounded by girls. Not just ordinary women either as these women are smoking hot, and they seem to almost always be in bikinis. Now, anyone can pay some models to hang out on the beach for a day, and anyone can pay a photographer to snap some pictures. The subtle difference is this is his life. When he travels, he takes a whole crew of women with him.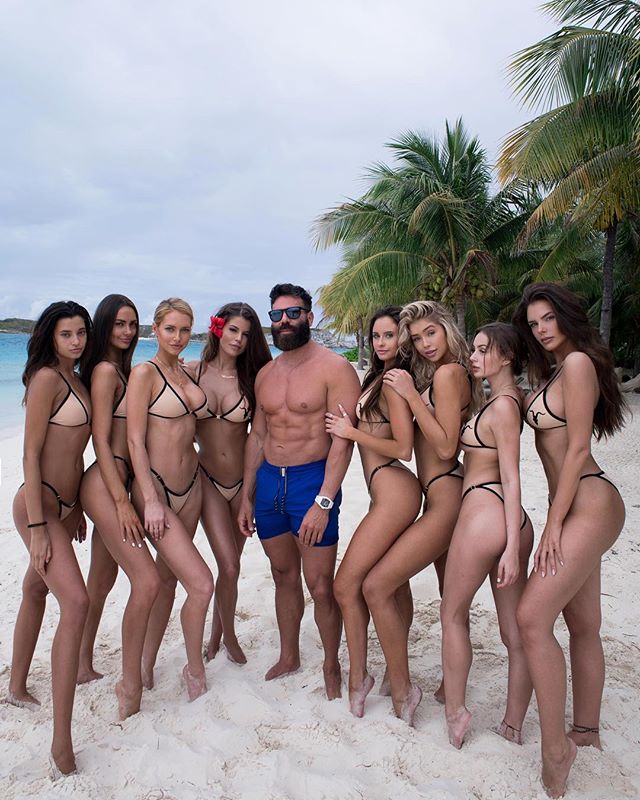 Dan is just chilling with a couple of insanely attractive girls.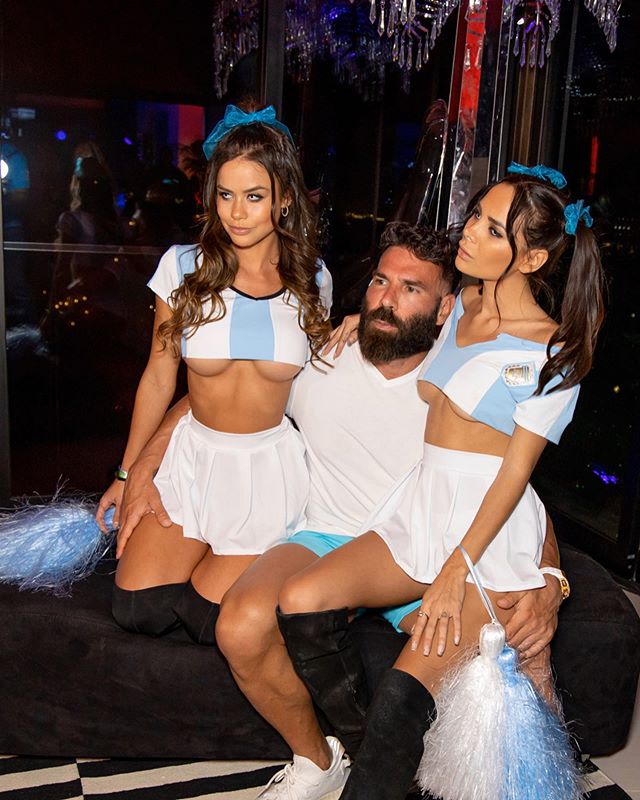 According to an interview with Joe Rogan, on one trip he slept with women 9 times in one day. He didn't clarify if that was multiple women or not, but we can assume so since he said he took 17 women on that trip with him.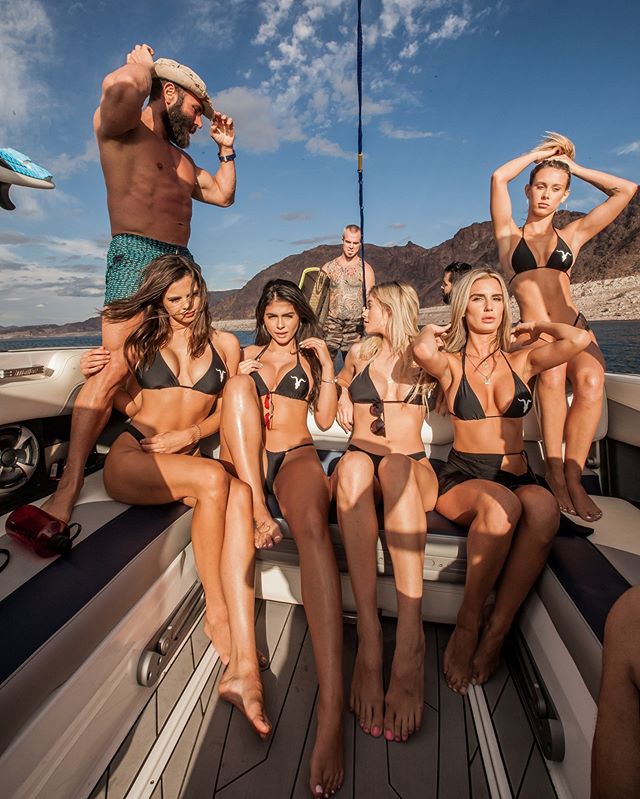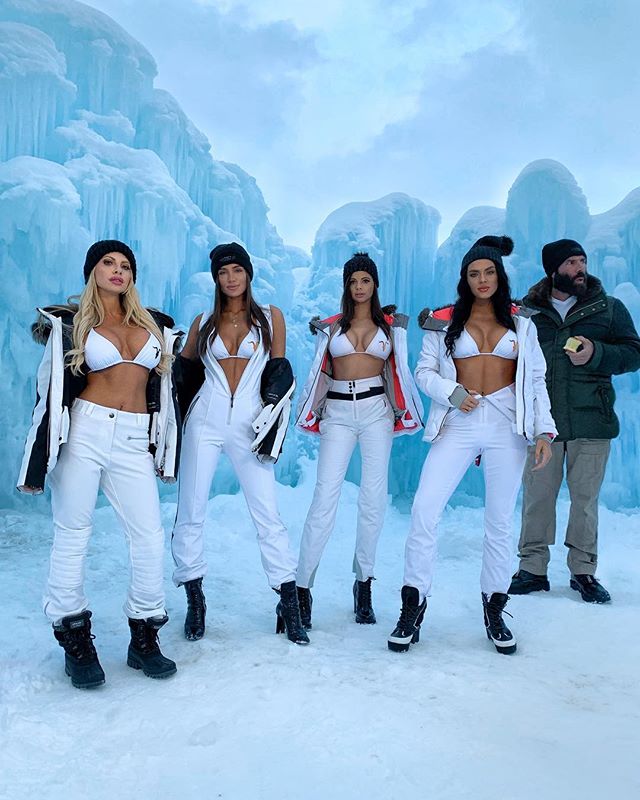 (image sources via Instagram)
Dan Bilzerian's Heart Attack Story
According to Dan, he has had 2 heart attacks. His heart attack story was explained on a Joe Rogan podcast. When he was 25 years old, he and some of his buddies went on a ski trip in Park City, Utah. While skiing, he met a girl in the lift line, and they later went back to her place. When he woke up the next morning, he took a shot of tequila and got some coffee. He then spent the day back on the slopes and went skiing all day.
Later that night, he felt really bad and threw up some. The next day, he went to the airport, and he still felt horrible. He was able to get an IV bag from a medic that morning, and he said he hooked up the IV in the airport bathroom. He got on the plane and flew to Las Vegas. Once in Vegas, he played poker all night and drank a lot. He went to a strip club with his buddies, and he took one of the ladies back to his hotel.
He asked his buddy for a Viagra, and he was given some. Sometime later, he said he didn't feel anything, and he asked for some more. He ending up taking some more along with some other drugs. So to recap, alcohol, drugs, and the blue pill…yikes! The next morning he woke up, and he had a lot of pain in his shoulder. He said he didn't know what it was so he did some push ups to see if it would go away. The thought of a heart attack did not even occur to him.
He went down to the lobby and got a cab called, and it took some time to get to him. Finally, he was taken to see a doctor. The Dr. said he was having a heart attack so they gave him some nitro and performed an angiogram. Luckily, there was no damage done, but this story gets even crazier.
The Dr. who is treating him is Dr. Conrad Murray. You know, the cardiologist of Michael Jackson fame? Anyway, the next day he had another heart attack. The Dr. started asking him questions about the last few days, and his Dan's father was also in the room. He had to tell them all the drugs and alcohol he had been doing along with the Viagra that he took. He spent 4 days in the hospital due to his 2 heart attacks.
Dan Bilzerian's Girlfriends
Now, most of the girls on this list were not traditional girlfriends in the sense of one guy dating one girl, but it is a list of well known woman who have spent some time hanging around him. We use the term girlfriend loosely here, but let's just say that he has had a lot of beautiful models party with him. Sofia Bevarly on the other hand, was specifically mentioned as a girl that he was exclusively dating for some time. In an interview on with Graham Bensinger, he discusses that he did have one monogamous relationship for 3 years.
Now, you are not going to be star struck by seeing A-List celebrities on this list, but that is because of his lifestyle. Dan says that he tries to stay away from famous chicks and LA girls. He feels that girls from the Midwest are more appreciative of his lifestyle, and high profile celebrities are used to it so it's no big deal to them.
Sofia Bevarly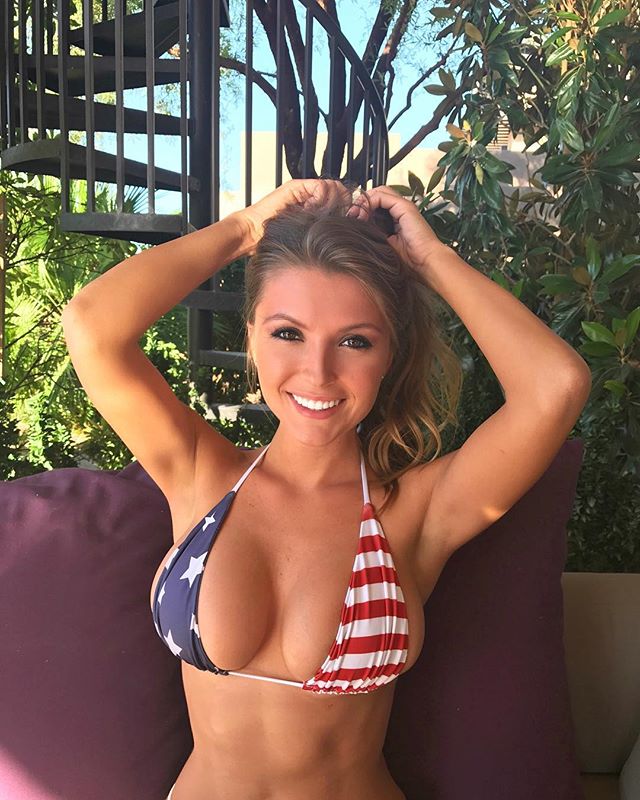 In 2017, Bilzerian announced that he was dating former Hooter's girl turned model, Sofia Bevarly. At the time, Dan was 37, and she was 21. While Dan can almost always be seen with a multitude of woman, he has had monogamous relationships. According to Dan, it wasn't your typical storybook love at first sight with his then girlfriend Sofia Bevarly. She may have been the fourth girl he slept with the day that he met her.
We are not quite sure how long the relationship lasted.
Mabelynn Capeluj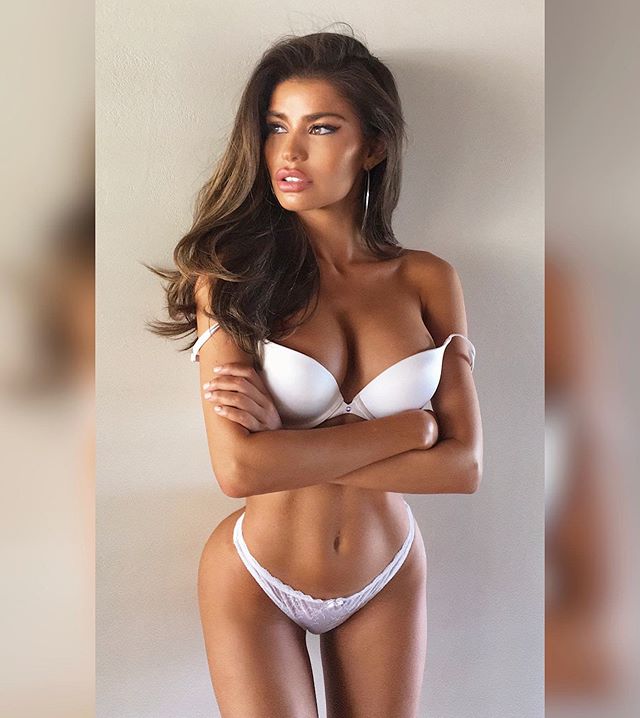 Mabelynn won the Miss California pageant in 2013. She has been seen partying on a Yacht with Bizerian.
Katie Bell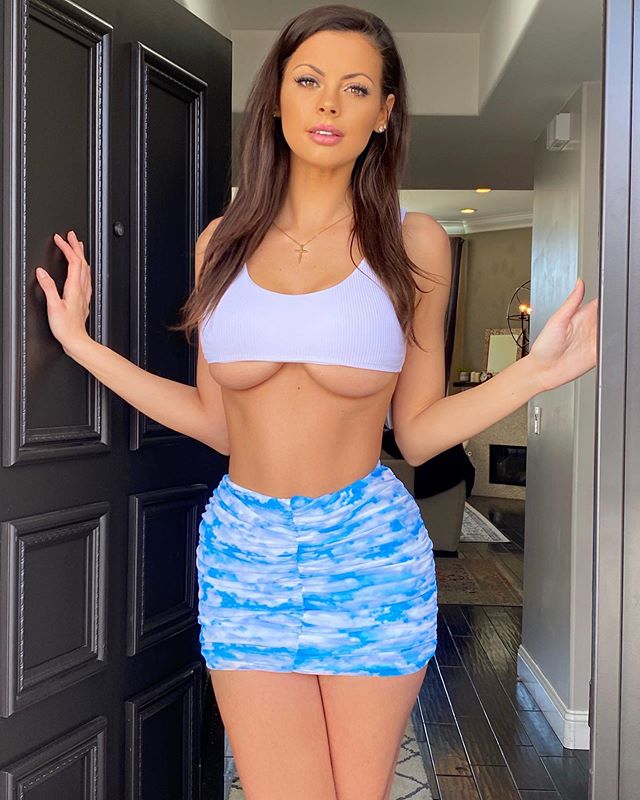 Katie Bell is no slouch with social media as she has over 2 million followers. She is a model and a social media personality. She has also repped Dan's Ignite brand and credits Dan for helping to explode her Instagram followers.
Lindsey Pelas
Lindsey Pelas is a social media influencer, an actress, model, and entrepreneur. She went to college at LSU and got a bachelors in History. She has over 9 million followers on Instagram. She met Dan at a Playboy party, and she said that he made it his mission to get her famous on social media. Within 6 weeks she had over a million followers. She became quite famous for her slo-motion running video. We have listed it below for your enjoyment. She is one of several girls that Dan has helped to make well known.
---
---
Lauren Blake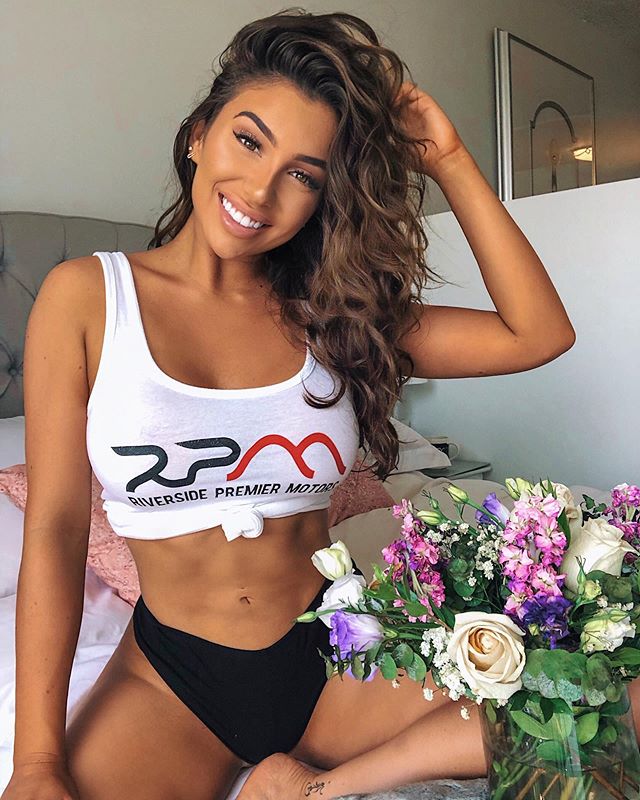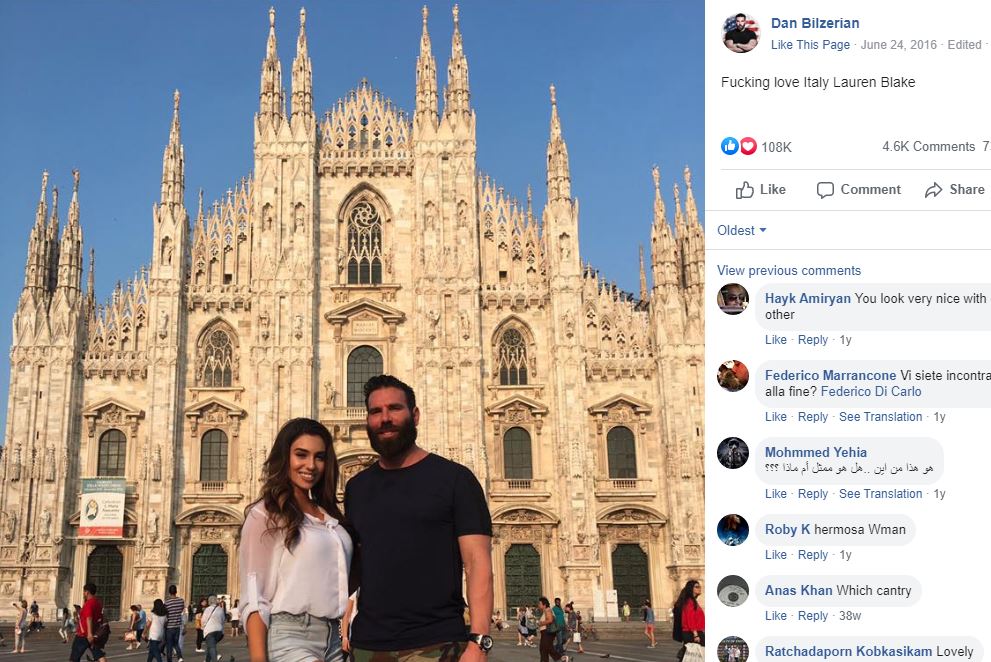 Lauren Blake and Dan posted several photos together on social media in 2016. It looks like they were taking a European tour. She has amassed over 600k followers sp far.
Tawny Jordan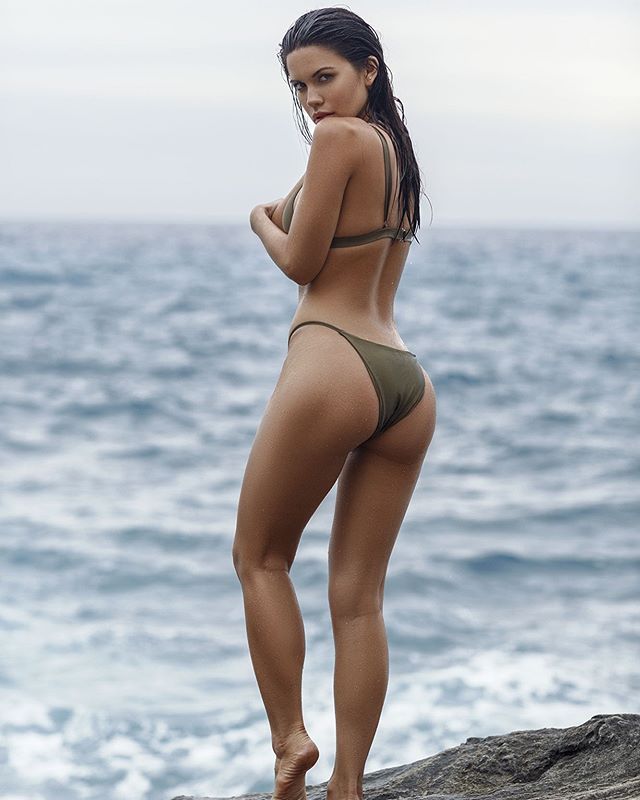 Tawny Jordan has made quite the name for herself on social media as she has almost amassed 1 million followers on Insta alone. She has been published in Sports Illustrated, Maxim, Playboy, and FHM. She was also the ring card girl for one of the biggest fights in history. You know, that small fight between Mayweather vs. McGregor.
Caitlin O'Connor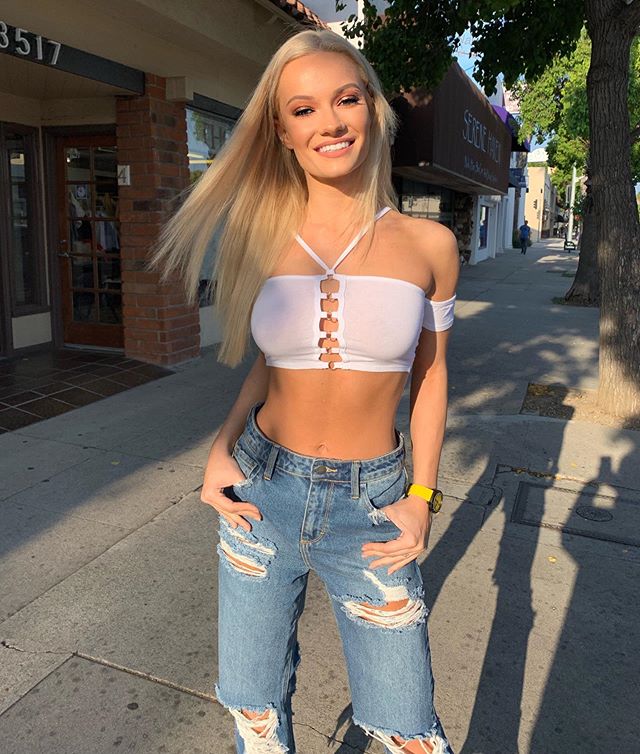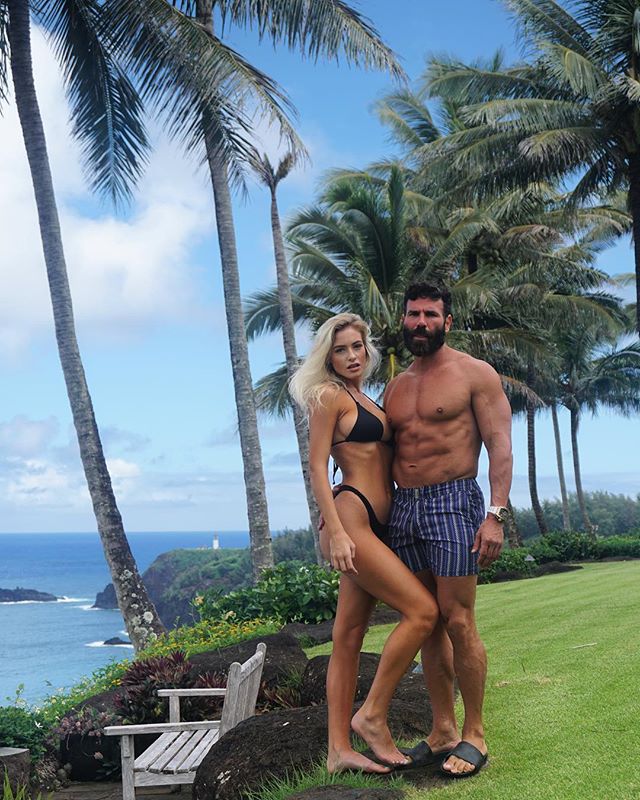 Caitlin O'Connor is best known for her modeling, acting, and being a host. One of her more notable roles was on the series finale of Two and a Half Men. She has done tons of commercials including Target, Macy's, Esquire, and many others. She also posed for Playboy, and she done a lot of work in film.
Jessa Hinton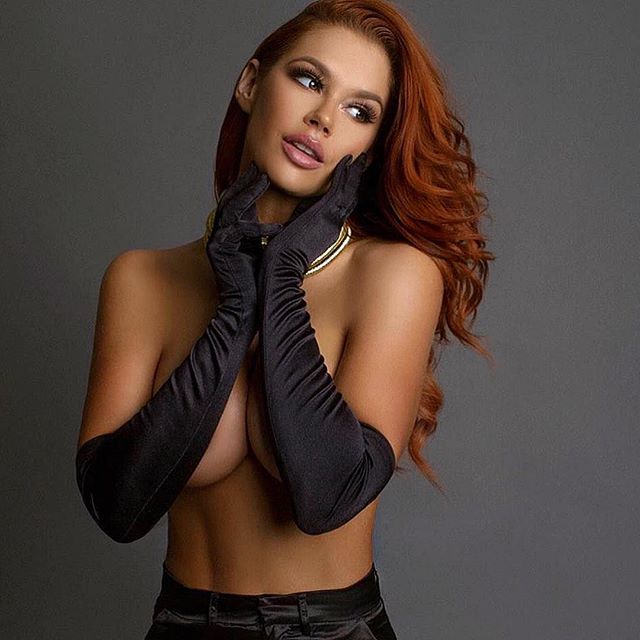 Jessa Hinton has been featured in Playboy, and she has a lot of acting credits to her name including Baywatch, the original series not the movie with Zac Effron, 7th Heaven and more. She dated Bilzerian for several years.
What Are His Parties Like?
There have been many interesting things discussed about Dan Bilzerian's parties. Well, for one, we have already mentioned the girls. It has been reported that it is not too uncommon for some women to be nude at his parties. One time, someone brought an alligator over and it bit him and left a scar on his leg. He has kicked girls out of his parties for fighting, and once, he said he "kicked a midget out of his living room" for smoking a cigarette. Cigarettes are banned at his parties, but of course, wacky weed is totally fine.
Some dude brought a pistol to one of his parties, so now he keeps a lot of armed security guards everywhere. So, if you are intimated by large men with guns, then you probably shouldn't go to one of his parties.
He has a bowling alley in his Bel Air mansion, and of course there has been nude bowling at parties. Who bowls while wearing clothes? That is so lame.
What Is Ignite?
Ignite is a CBD company that Bilzerian launched in 2017. Ignite sells both CBD and THC products, but the THC are only sold legally through dispensaries in CA. They sell CBD oil, gummies, energy shots, topicals, and vape.
What Is His Net Worth?
Dan Bilzerian stated his net worth was $100 million while he was on the Howard Stern Show in 2014. We are going to assume it is a little higher than that in 2020.
(Featured Image via Findrazor / CC BY-SA (https://creativecommons.org/licenses/by-sa/4.0))