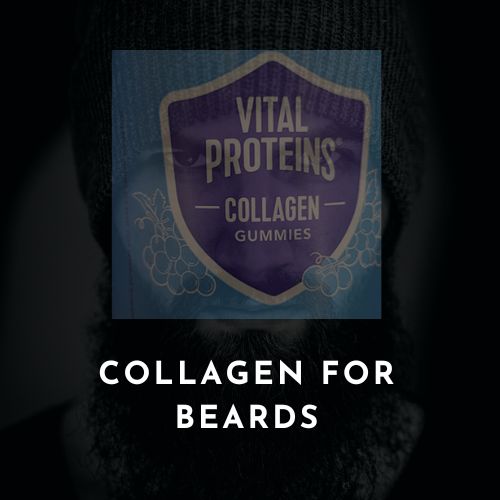 When it comes to men and their beards, they will do almost anything to improve its growth. A new supplement called Collagen is becoming more popular for hair and skin. But, what does Collagen do for beards? This article takes a look at this supplement and how it can help with your beard care routine.
We will review what benefit it has, where can you get it, and what are the best supplements that contain Collagen.
As an Amazon affiliate, we may earn a commission if you purchase something from one of our links. This is at no extra cost to you, and it helps to keep our site up and running.
What Is Collagen?
Collagen is a structural protein that is found in humans. As a matter of fact, it is the most abundant structural protein in the body. It is found structural places like bones, cartilage, hair, and skin.
As you get older, your body produces less of this. When this happens, you can see structural changes in the body such as skin becoming wrinkled.
Does Collagen Help Beard Growth?
Collagen can help improve your beard because it promotes keratin production. Keratin is a protein that is vital to healthy hair. By increasing the availability of Keratin, you are improving your chance of healthier beard hair.
Collagen also helps with the formation of new hair follicles. By improving the health and formation of new hair follicles, collagen may help your beard grow.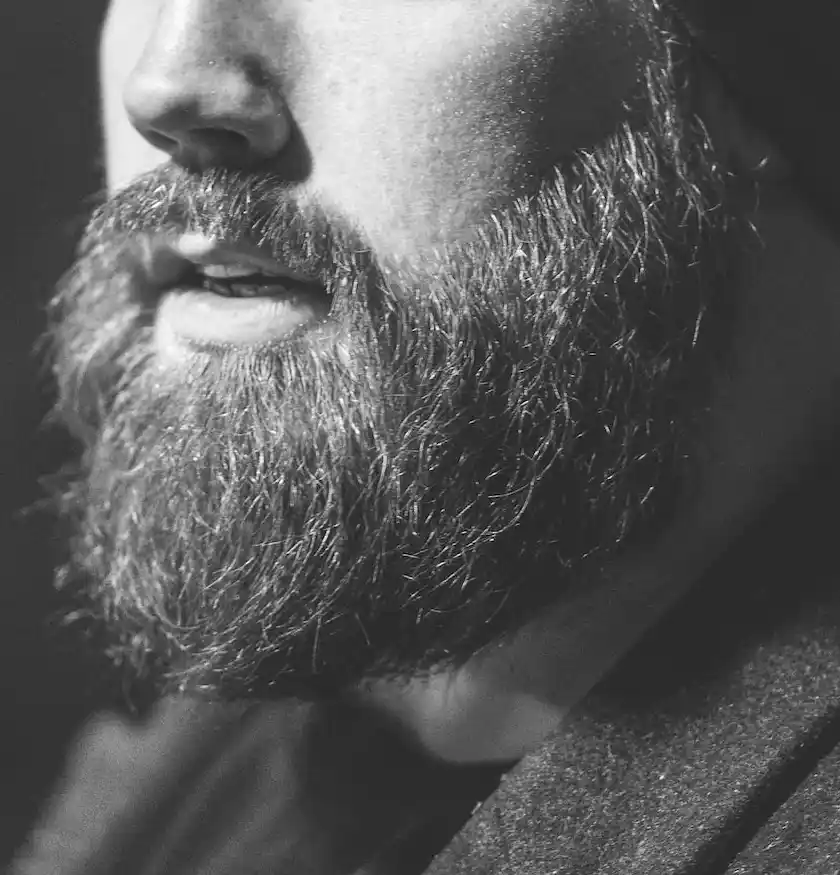 Due note, that there is no guarantee that collagen supplements will make your beard grow faster. If you are looking for every advantage possible, collagen supplementation may be something to look into though. Please be sure to consult a nutrition professional before beginning any supplements.
Benefits Of Collagen On Facial Hair
Here are some of the benefits of Collagen on facial hair:
Increases Keratin production
Increases hair thickness
Improves hair shine
Beard hair looks more healthy
Can repair split ends
Helps to fight free radicals that can damage hair
May reduce or slow greying hair
As you can see, there are several benefits of collagen for beards. These benefits can be more important if you are an older guy. Your body changes a lot as you get older. You will produce less collagen, and you will have less Keratin.
Your beard will be more prone to free radical damage as you age, and you are more likely to get a grey beard as you age. These are all issues that are associates with collagen and getting older.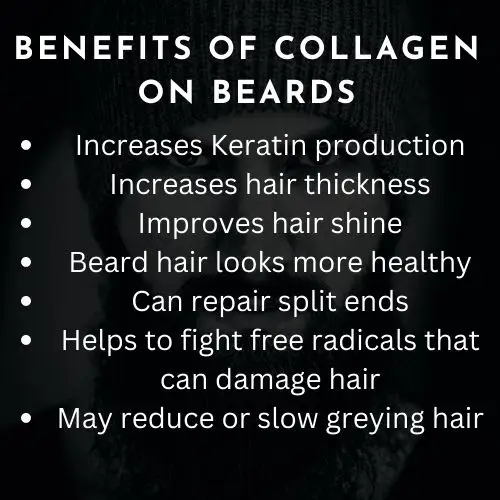 Where Can You Get Collagen?
There are 3 ways to get Collagen to help with your beard.
From food
From supplements
From beard shampoo and conditioner
Foods To Boost Collagen Production:
If you are looking for a natural way to supplement your beard with collagen, then you get eat more food that will boost production.
Beef Bone Broth
Blueberries
Blackberries
Skin-on Chicken
Egg whites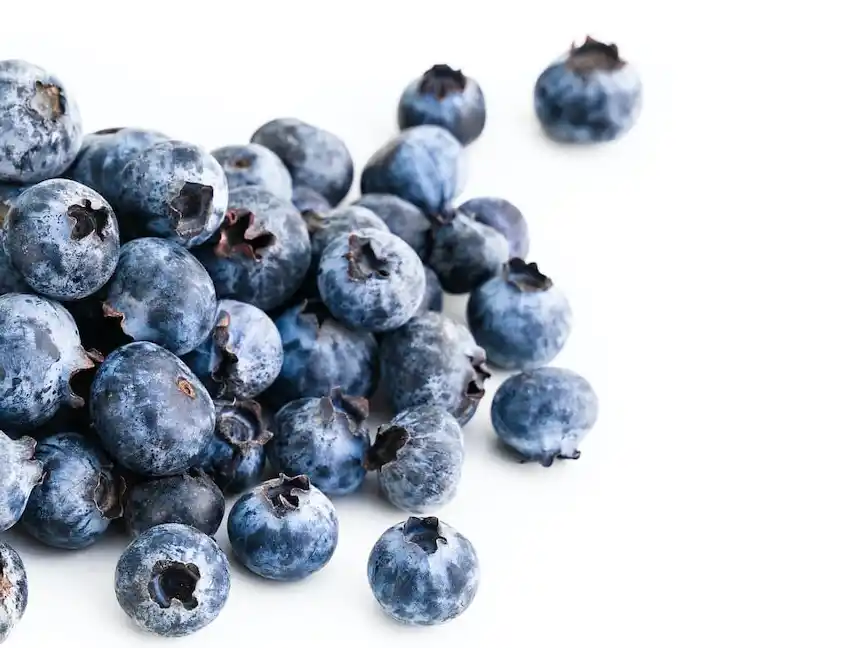 For more information on foods for collagen check Eating Well.
Supplements:
You can also get collagen from powder or capsules. There are tons of options here, and this is available at almost every grocery store, pharmacy, or online. We have included a list of supplements that we like below.
There are also premade drinks that you can get at your local grocery store.
Beard Shampoos And Conditioners With Collagen:
If you really want to go the extra mile, you can wash and condition your beard with collagen shampoo. This will help to strengthen it, and it will provide it with extra shine. One brand that we really like is OGX. You can find this collagen shampoo for your beard at Amazon.
How To Use Collagen Supplements For Beard Care
There are several options when it comes to collagen supplements for your beard.
You can take capsules that contain it. Simply take the recommended amount that is on the bottle.
You can get a Collagen powder. For this simply mix the powder in with a liquid. This can be water or even coffee. The manufacturer will list the recommended amount that is required each day.
Best Collagen Supplement For Beard Growth
There are 2 options that we recommend when it comes to your beard and collagen supplements.
Vital Proteins Collagen Peptides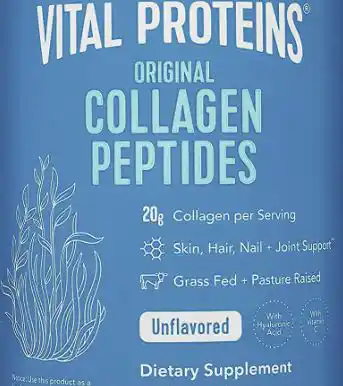 If you prefer a powder version, then this is a great option. Simply add it to a beverage, mix and drink. Yes, it is that simple. This will give you 20g per day.
This mixture also includes Hyaluronic Acid and Vitamin C. The added vitamin is also a plus for you. If you want to read more about how Vitamin C works for beard growth, then you can read our article covering that topic.
You can view Vital Proteins here.
Beard Octane Collagen Complex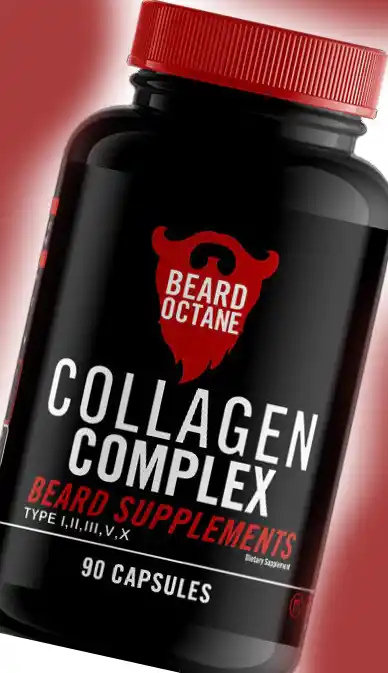 If you prefer to take a capsule supplement, then we recommend the one by Beard Octane. We like it because it comes from a reputable beard company. The owner has a beard, and he understands everything related to the industry. They also offer many other products for beard care.
As far as the product itself, it contains a mixture of different Collagen Protein complexes like bovine and marine peptides. You can read more about their Collagen product at their website.
What About Collagen And Minoxidil?
Let's talk about the use of Collagen when you are taking Minoxidil.
A lot of guys take Minoxidil for beard growth, and there are concerns over how it may age your skin. This is done because it can inhibit Collagen which in turn may causes aging. To counteract that, a lot of guys take Collagen.
For more information on the source of this information, check out Science Direct.