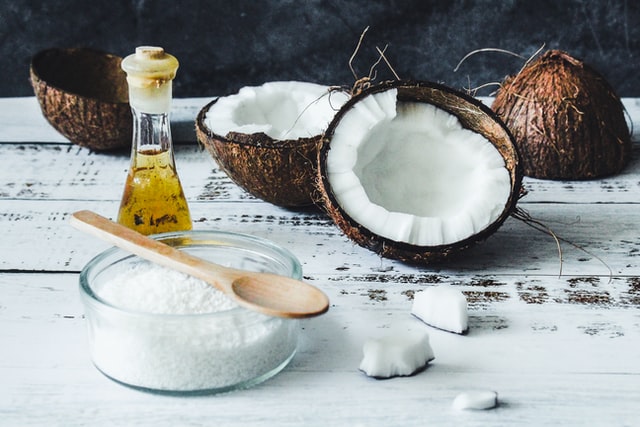 Coconut oil is one of the simplest and easiest products that you can use as a beard oil. It is easy to obtain, and most people are familiar with it because it has been used for skin care and cooking for so long. It is one of the first oils that men turn to for beard care and beard grooming.
When guys start growing beards, they may start noticing new issues with their skin and facial hair. Some of the most common problems with growing a beard are itchy beard, beard dandruff, and dry skin. While there are tons of products available to help remedy these issues, sometimes guys just want to use something simple and readily available like coconut oil for beard care.
You can use coconut oil in your beard to help remedy beard itch, dry skin, and beard dandruff. It is simple and easy to use, plus it is very easy to find.
6 Benefits of Coconut Oil For Your Beard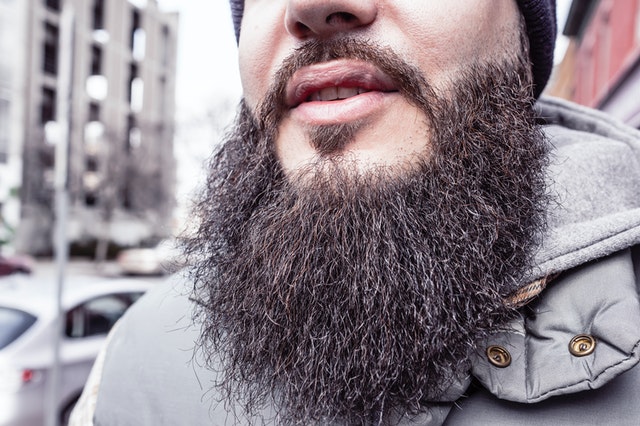 Coconut oil works by hydrating and protecting your skin and beard to help soothe irritation. It can be used as an effective beard oil because of its ability to moisturize, and it is loaded with vitamins and anti-oxidants.
Coconut oil is very moisturizing, has anti-inflammatory properties, and it is full of vitamins and anti-oxidants.  It is also great for your skin underneath your beard.
In addition to all of those benefits of the oil, the bottom line is coconut oil will hydrate and condition your beard hair.  This will make your hair softer, so when the hair curls back into your skin, it will be less scratchy.  One of the causes for beard itch is your hair growing out and turning back into your skin.
Keeping your beard conditioned daily will help solve your itchy beard problem.
1. It Softens Your Beard Hair
Coconut oil works great for softening your facial hair. This makes your beard appear more healthy because it will give your hair some shine. Plus, a softer beard is easier to comb which allows you to exfoliate the skin underneath your beard.
Another benefit of softer hair is a reduction in broken beard hairs. If your goal is to have a nice, thick, healthy looking beard, then a softer beard should be a goal of yours.
Sometimes other factors can play a role in a man wanting to make his beard softer. One example of this is scratchy beards causing rashes on wives and girlfriends during close contact like kissing.
2. It Moisturizes The Skin Under Your Beard
Coconut oil is great at moisturizing your skin, and this is necessary because your skin beneath your beard can become dry. This problem gets worse in the winter when cold air can dry it out more. One thing that is important to understand is how your sebaceous glands work. These glands produce oil that hydrate your facial hair.
When you grow a beard, your facial hair will dry out a little as your beard hair gets longer and more full.
A common problem that men have is dry skin under their beard or beard dandruff. This is basically dry dead skin cells that flake off into your beard. This can become unsightly, and coconut oil is a good way to hydrate your skin. This can help to alleviate the problems because the coconut oil helps with that.
3. Helps To Control Beard Itch
A common problem that occurs with growing or maintaining a beard is itchy skin. This can be caused by several things such as dry skin and course hair. If you take care and work on what was covered in steps 1 and 2, then you should be able to control the itchyness.
This comes from coarse and dry facial hair rubbing against your skin and aggravating it. This is more common in men who are in the earlier stages of beard growth. The skin may be a little sensitive to all the hair, but that will go away in time.
You may also have dry skin which will cause beard itch. A routine use of coconut oil as beard oil will help to alleviate any beard hair making your skin itch.
4. Controls Beard Dandruff
Beard Dandruff (also known as "beardruff") is dry flaky skin underneath your beard. Routine use of coconut oil on your beard will help to keep your skin hydrated. This will help to minimize this issue.
5. Stimulates Beard Growth
Coconut oil will not turn your beard into a thick full mane. It's just not going to happen. Beard growth is largely genetic, and no oil is going to magically change the way your hair grows. There is a lot of antecdotal evidence that coconut oil restores hair and makes it grow faster, but there are no clinical studies that prove this.
However, using coconut oil does benefit your beard because it helps to promote overall beard health. Keeping a better beard will promote a better environment for your facial hair to grow as opposed to hindering it.
6. Protects Your Skin And Facial Hair
There is a lot of lauric acid in coconut oil. This is a fatty acid that is known for its anti-microbial and moisturizing properties. In laymans terms, coconut oil helps to maintain moisture, and it may help with fighting of microorganisms, yeasts, and rashes.
Coconut oil is also loaded with Vitamin E, and it can help prevent protein loss from your hair. This works out great when you can damage your beard from combing it.
Drawbacks Of Coconut Beard Oil Care
While there are many great reasons to use coconut oil on your beard, it does have some drawbacks. The biggest one is that it is not non-comodogenic. This means that it can clog your pores which may lead to blackheads and acne.
Now, this does not mean that you are going to get pimples under your beard if you use this. It just means that this particular oil can cause issues, and for people who are more sensitive to it may want to try alternative. We discuss alternatives below.
Another drawback is feel in beard. Not all beard oils are the same, and if you have ever tried several different brands, then you know what that means. Coconut oil tends to be on the greasy side, and it does not absorb into the facial hair and skin rapidly. If you compare it to something like Argan oil which is a dryer oil that absorbs quickly into hair and skin, then you can certainly feel the difference.
Coconut oil is not a liquid. It is solid up to 76 degrees Fahrenheit. To apply it, you will need to treat it like a beard balm and melt it in your hands first.
One more drawback is the scent or lack thereof. If you just want the benfits of the oil, then this is not an issue, but if you are comparing it to the hundreds of different scented beard oils on the market, then you won't be happy. You could always scent it yourself, but that requires extra time and work.
How To Use Coconut Oil In Your Beard
Like any other beard oil coconut oil needs to be applied to your beard when it is dry and clean.  Your beard will absorb the oil which will help moisturize it.  Your skin will also absorb the coconut oil.
Coconut is a solid until it reaches 76 degrees Fahrenheit, so it will need to be melted before you can put it in your beard.  Your body temperature is well above 76 degrees, so simply putting a dime size amount in your palms and rubbing them together will do the trick. Coconut oil for beard care can be a little tricky because it is not a liquid.
Once the oil is melted on your palms, simply rub it into your beard starting at the root and working your way to the tip.  This will ensure that all of your skin and beard hair has been coated.
The best time to do this is after a shower when your pores are opened up a bit.  This means more coconut oil will be absorbed by your skin.  You should be fine doing this once a day.
Coconut oil can be a little greasy, so make sure to start with a small amount to make sure that you do not use too much.
If you want to take it a step further, you can melt about an ounce of the oil and put a few drops of an essential oil like Tea Tree in it.  (Make sure you understand essential oils so that you use a skin safe oil.)  After you add the essential oil(s), you can put the coconut oil in a small container, as it will return to solid form if it gets below 76 degrees.
Which Type Do I Need
When you are purchasing a jar of coconut oil, there are some things to consider. How big of a jar do I need, do I need to get organic, and does it come in a liquid form.
Organic is a good way to go as well simply because you don't want to soak your beard in oils that may have had chemicals sprayed on them.
If you prefer a liquid, then you have to get fractionated coconut oil. Fractionated coconut oil is made by removing most of the long chain triglycerides which leaves a lot of the medium chain triglycerides (MCT.) That is why it is sometimes referred to as MCT oil. This version is liquid, less greasy, and it absorbs easier. This is a solid choice that is highly recommended. This comes from virgin coconut oil.
Alternatives To Coconut Oil
There are many alternatives to just using plain coconut oil for beard care. The most common ones are beard oils, beard balms, and beard butters.
The closest thing is beard oil, and the benefit here is you can get a mixed oil that has been tested out. You can get the benefits of multiple oils in one application, it smells much better, and it comes in a nice bottle with a dropper or reducer.
One great choice instead of plain coconut oil is Badass Beard Care Oil.
We really like this brand due to the variety of scents they offer, and they scent their products with essential oils so they smell fantastic. They certainly smell better than plain coconut oil.
This will provide everything that you need, and the cost is relatively the same to a jar of coconut oil.
If you are looking for the consistency of coconut oil then beard butter should be something that you get. These work extremely well at softening up you beard. You can even just use this at night while you sleep if you are not interested in using a product in your beard during the day.