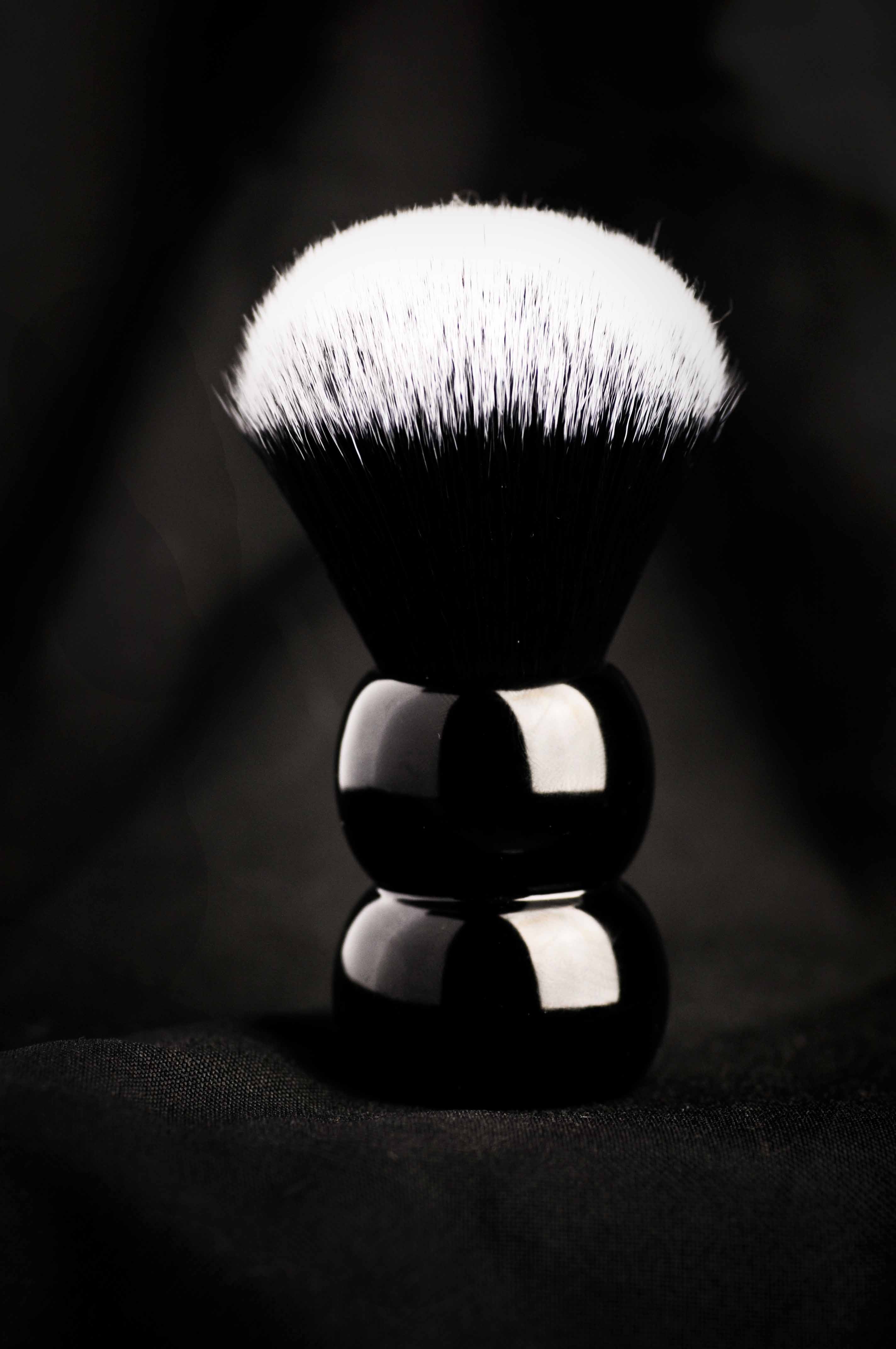 Best Synthetic Shaving Brushes
If you don't own a synthetic shaving brush, what are you waiting for?  The good news is that there are a lot of choices, the bad news is that there are too many choices.
We have done all the grunt work for you, and we have assembled a list of the best synthetic shaving brushes available.  If you are looking for a top 10 list, reviews, or best of list, you have come to the right place.
We will provide you reasons why you should use one as well as the downsides of them.  Some people are looking for a vegan shave brush, some have allergies to animal hair brushes, and some just prefer their performance.
As an Amazon affiliate, we may earn a small commission if you purchase an item from one of our links.  This is at no extra cost to you, and it helps to keep our site running.
Best Synthetic Shave Brushes Compared
| Brush | Knot | Loft |
| --- | --- | --- |
| Fine Classic Synthetic Shaving Brush | 20 | 52 |
| WCS Beacon Synthetic Shaving Brush | 25 | 54 |
| Atomic Rocket by Phoenix Shaving | 26 | 63 |
| RazoRock BRUCE Synthetic Shaving Brush | 24 | 57 |
| RazoRock BIG BRUCE Synthetic Shaving Brush | 26 | 63 |
| OMEGA 0146745 Synthetic Shaving Brush | 25 | 58 |
| OMEGA 0146206 Synthetic Shaving Brush | 25 | 58 |
| Muhle 31M89 Synthetic Shaving Brush | 23 | 46 |
| Muhle 39K257 Synthetic Shaving Brush | 19 | 48 |
How To Choose A Synthetic Shave Brush
Price
Let's be honest, price is a driving force when it comes to purchasing products, and it all comes down to value.  I know this sounds simple, but value is what you place on something.  A $200 brush may be outlandish to one person, and another may find it reasonable as long as the quality of the product is high end.  Simply put, one person may not value a $200 brush as much as someone else.
When it comes to shopping for a brush, you are going to have a set range in mind.  It's nice to look at all ranges though, even if you have no intention of spending a lot of money.  At least you get to see what the other price range brushes have to offer.
Synthetic brushes have boomed over the last five years, and it has become a buyer's market.  Prices range from $10 to over $100, and you can get a great brush at a low cost today.
We will provide choices in all prices ranges, and we are not doing it to appease the lower cost market.  The fact is that there are lots of great ones that are not expensive.
Backbone
One factor that people look for when choosing a synthetic brush is the backbone.
This refers to how rigid the fibers are when they are pressed against your face.  Something that has low backbone means when you press the knot against your face/hand you do not have to exert much force to get the knot to spread out.  A good example of this would be a Plisson.
A brush that has a lot of backbone means that you have to exert more force to get the knot to splay out.  The knot holds it shape better when you use it to lather.
If you are new to shaving brushes, you may not know what you like.  If you have very sensitive skin, you may prefer a brush with little to no backbone, but the best way to learn what type of backbone you prefer is to try different brushes.
Splay
Splay is how far the hairs spread out when the brush is mashed against your face.  A shorter loft with a lot of backbone probably will not splay much with normal pressure against your face, but if you take that same amount of pressure using a brush with no backbone and a large loft, it will splay easily and cover more of your face.
Loft
The loft is the length of the brush from the handle to the tip.  This is measured in millimeters, and an average size would be 50 mm-55 mm.
Typically, the taller the loft the more it will splay, and shorter knots will be stiffer that won't fan out so much on your face.
If you are experienced with natural hair brushes, and have not tried synthetics yet, you probably will find that you do not prefer the same loft.  If you generally like a loft of 51-52 in natural hair brushes, you may need to get something a little higher like a 56 mm loft.
The reason is because the synthetic fibers are stronger than natural hair so they need a little bit more length to provide a similar experience.
Knot Size
This is the diameter of the knot at the base, and this is generally measured in millimeters.  Some common knot sizes are 24 mm and 25 mm.
If you are new, a good place to start would be a 1:2 ratio of knot to loft.  This ratio seems to work well for natural hair, but in my experience, a good place to start would be something a little higher on the loft.  Example:  24mm knot:48 mm loft
Some people prefer bigger brushes to bowl lather in, and others like a smaller one for face lathering.  Sometimes, your larger sizes can get lather where you do not want it like in your nose.
Handle Height
This is basically the length of the handle.  This can impact how you lather your shaving soaps.
For example, if you are lathering in a mug, it is much easier to use a brush with a long handle.  A shorter one might constantly clang against the side of the mug.
Total Height
This is the total length or the handle plus the loft.  This can be a personal preference depending on what you like.  Some people prefer shorter lengths for face lathering and longer ones for bowl lathering.
Aesthetics
Because there are so many choices, the way a brush looks can be a deciding factor in what you purchase.  Synthetic brushes come in all different colors, different handles, and they can have many different looks.
If you have a couple of brushes you are deciding on, and all things being equal, you may choose the one that looks the best.
There are several brushes on our list that are incredible looking.
Pros And Cons Of Synthetic Brushes
Pros
They dry faster than boars and badgers
They have very little to no shedding
No animal smell
Vegan – Not made from animal products – cruelty free
Does not need to be broken in like badgers and boars
Does not need to be soaked to hold water
Clean up is easier
Consistent performance for building lather
Lasts longer than natural hairs
Does not need to be cleaned as much
Typically lower cost
They are more hygenic
They make great travel brushes
Cons
Poor heat retention
Does not hold water as well
Not "Old School"
Best Synthetic Brushes
RazoRock BRUCE Plissoft Synthetic Shaving Brush
The Bruce by RazoRock is a solid brush that is comparable to the discontinued and more expensive Plisson from L'occitane.  This is an incredibly soft brush, and has a little backbone to it.  If you are looking for a nice looking and affordable synthetic brush that is close to the Plisson, you should grab this one.
They also offer a RazoRock Big Bruce which is similar except that it has a 26 mm knot and it is a little taller.  If you are looking for a slightly bigger version of the Bruce, you should grab this one.
Knot:  24 mm
Height 107 mm
Omega 0146206 HI-Brush Synthetic Shaving Brush
Omega is a solid brand and offers tons of brushes including the Omega 0146206 HI-BRUSH Synthetic Shaving Brush.  This made our list because of the reputation of the Omega brand, the classy look with the ebony handle, and solid performance.  It has decent backbone but it may be a bit too springy for people who prefer a bit more.
It features Omega's Hi-Brush synthetic fiber.  Omega claims that it is better at holding and releasing the right amount of soap for creating great lather.  The synthetic fibers in the HI-Brushes are soft enough for sensitive skin and firm enough for bowl lathering.
If you are looking for a lot of splay, you probably won't get it with this brush, but if you are looking for something that does not splay a lot, then this should be perfect for you.
Height: 108 mm
Loft: 58 mm
Base: 50 mm
Knot: 25 mm
Omega 0146745 HI-Brush Synthetic Shaving Brush
This is a beautiful Italian made brush with an all white handle with black lettering.  This Omega 0146745 HI-BRUSH Synthetic Shaving Brush is very close to silver-tips.  They are soft enough for face lathering and they have enough backbone for bowl lathering.
Height: 108 mm
Loft: 58 mm
Base: 50 mm
Knot: 25 mm
MÜHLE Classic Silvertip Badger Fiber Brush 
The Muhle is in a league of its own.  It features Muhle's synthetic fibres which are made to simulate the natural bristles of a Silvertip brush.
This brush has extremely soft tips and little backbone.  This vegan shaving brush will make you think that you are shaving with natural hair.
The handle is heavy and balanced well, and it is a work of art.  If you are into high-end products and luxury items, this is the brush for you.
Height: 100 mm
Loft: 46 mm
Base: 55 mm
Knot: 23 mm
Simpsons Chubby CH2 Synthetic Badger Shaving Brush
The Chubby is the most expensive on the list, and it represents the iconic brand of Simpsons very well.
This brush uses modern faux badger synthetic fibers, and many shaving brush enthusiasts will tell you that this is the best synthetic shave brush on the market when money is no object.
Atomic Rocket 26mm Synthetic Shaving Brush – Suave Knot
As we stated earlier, aesthetics is a big part of choosing a brush.  The Atomic Rocket by Phoenix Shaving has a classic retro look and feel to it.  This stands out among the crowd because of its vintage look that is modeled after the Ever-Ready shave brush.
This is a big brush, it has a nice fell and sturdiness to it, and it has really good backbone.  This thing destroys soap and is able to whip up tons of lather.  At the price offered many people refer to it as a "steal."
Height: 127 mm
Loft: 63 mm
Base: 50 mm
Knot: 26 mm
WCS Beacon Black Synthetic Shaving Brush
The Beacon Black, by West Coast Shaving features black on black.  A nice elegant black handle with black fibers.
This is great for creams as well as soaps as it has a nice medium size knot at 24 mm which is plenty soft for face lathering, and it has a nice amount of backbone to it.  It is not too firm nor is it as floppy as a Plisson.
Knot: 24 mm
Loft: 54 mm
Overall Height: 102 mm
MÜHLE Classic Small Faux Ivory Silvertip Fiber
This beautiful faux ivory brush from Muhle is a little more pricey than a lot of the brushes on here, but we did say that we would list the best brushes with different price ranges.
This brush satisfies the wet shaver who is looking for a luxury brand with an exceptional product.  This utilizes the synthetic fibers that are designed to emulate shaving with real silvertip.  This provides an excellent lather, and it has great splay.
The faux ivory handle is made from high-grade resin, and looks outstanding.
RazoRock Snowman Plissoft Shaving Brush
We actually did a full review on the Razorock Snowman Plissoft Brush.
In short, it is a beautiful brush that has super soft tips from their Tuxedo Knot and it provides a nice dose of backbone if you are not looking for a floppy brush.
Knot:  24 mm
Loft:  57 mm
Best Synthetic Brush For Beginners
Fine Classic Shaving Brush
If you are a beginner, you want something that is inexpensive, quality, and easy to use.
This brush is a take on the old EverReady shave brush, and it features Angel Hair Fibers which provide extremely soft fibers that lathers any soap well.
This is a great daily driver brush for an experienced user, and it is great for a beginner.  You can read the reviews on amazon, and you will see why it made our list.
Knot:  20 mm
Loft:  52 mm
Best Travel Synthetic Brush
Satin Tip Shave Brush the Purest Luxury Synthetic, Black
The Satin Tip is a solid brush with a light handle that is made with a low slip rubberized handle.  This is a solid travel brush as it is light, inexpensive, and the rubberized handle can take a little beating.
Best Synthetic Brush For Sensitive Skin
Parker Safety Razor Ultra Soft SYNTHETIC Bristle Shaving Brush
This brush features ultra-soft black bristles mounted in marbled ivory with a chrome handle.  This is a very nice looking brush with the contrast of the black fibers and the white and chrome handle.
The solid design and heavy handle feels like you spent a lot of money, but the great news is that it is not that costly.
It comes with an acrylic brush stand as well.
There are many solid reviews of this on amazon that you can read here.
Summary
Hopefully, we were able to provide some guidance into looking for the best synthetic shaving brush.
If you feel that some others deserved to be in this list, please list them in the comments.