James Harden's beard has become very popular over the last few years, and he has a reputation for having one of the best beards in the NBA. It is so famous that he is often referred to as "The Beard."
He was successful in high school without facial hair, and he was able to get a basketball scholarship to Arizona State without it. In college, he was a PAC-10 College Player of The Year, and a first team all-American. It just so happens that he started growing his beard in 2009 which was the year he earned all his accolades.
His last year in college was remarkable, and he was drafted in the 3rd round by the Oklahoma City Thunder in June of 2009. So to recap, when James started growing his beard in 2009, he became an all-American, and he was drafted in the first round of the NBA. We like to think that his beard played a role in his success.
Let's take a look at the journey of James Harden's beard.
James Harden Without A Beard
He was with no beard in high school and the early days of his college career. In high school, he was a McDonald's all-American, and he started his basketball life at Artesia high school in Lakewood, CA. Here, he helped to lead his team to a state championship in his junior and senior years. He even accomplished this with no facial hair. Imagine how dominant he would have been if he grew a full beard and mustache back then.
Here is a photo of a beardless James Harden. He looks nice and clean shaved here.
Embed from Getty Images
---
History Of James Harden's Beard
Why did Harden grow a beard? According to the New York Times, he grew his beard because of laziness, and later it became his thing. He also claimed to ESPN that growing a beard made him look older, and he said "that was one of the big things I liked about it." It's a good thing that he decided to do that because he became one of the best players in the NBA. It is amazing what a beard will do for you athletically.
In college he kept a short beard that was not long or thick. It was more like heavy stubble. After he was drafted, he started to develop a signature look. He soon became known for his thicker beard and Mohawk hairstyle.
In 2008, he had a little facial hair that was shaped like a goatee.
Embed from Getty Images
---
In 2009, he finally had a full beard. This is a photo of him during the PAC-10 Tournament Championship game.
Embed from Getty Images
---
In 2010, his beard hair was finally looking nice and thick.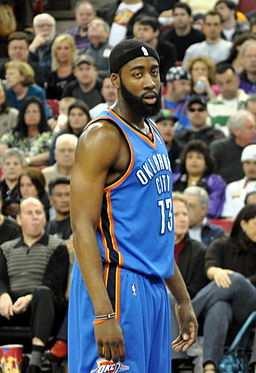 His role with Oklahoma was the bench and he formed a threesome with Durant and Westbrook. He won the NBA Sixth Man of the Year award and made an appearance in the NBA finals. His journey ended quickly at Oklahoma because he was traded to the Houston Rockets.
During his time at Oklahoma, his beard grew in size. It also seemed like he got better as his beard got longer.
His beard with the Houston Rockets. Currently, he is wearing a full on man beard. This is no goatee, stubble, or patchy beard. This is full on grown man.
In 2018 he was the NBA Most Valuable Player, and "The Beard" became one of the best players in the world.
In 2020, he was the leading scorer in the NBA before things got shut down due to the pandemic. We would also like to point out that his facial hair is the biggest it has ever been. We don't think that is a coincidence.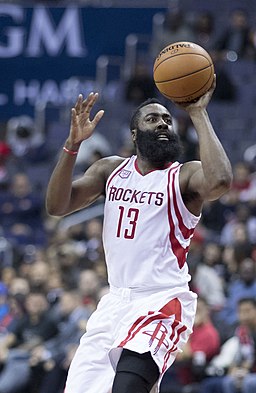 Embed from Getty Images
James Harden Shaved His Beard
He was asked by TMZ what it would take to shave off his facial hair. He said he would only consider doing it for charity. But, it would also have to be for the right charity before he would even consider doing it. He was asked if he would do it for $80,000, and said basically said no to that. So, we are guessing it would take a very large amount of money to the right charity for him to do it. To be fair, he was put on the spot and asked the question. He did not just announce that he wanted to do it to raise money.
His Beard's Popularity
His look and style became an everyday talking point for sports fans. The beard was so amazing that in 2015, Khloe Kardashian started dating James. They met at a Kanye West birthday party. So, we can see that the ladies are attracted to his hair.
He also signed a contract with Adidas. He brings in a lot of money with that one. Trolli's candy also signed a deal with him. They featured candy that was shaped like his face and beard. While there are many successful NBA players with lucrative advertising deals, nobody brings it in with the help of their beard like James Harden.