There is a time in most every man's life where he will decide to grow a beard. Some of the struggles that come with growing a beard are beard itch and beard dandruff. Thankfully, there are great products on the market like Outlaw Magic Beard & Hair Elixir that will help to relieve some of the struggles that come with growing a beard out. This is certainly important if it's your first time letting your facial hair get past the heavy stubble phase.
A lot of men tend to grow their beards out in cooler weather months, and No Shave November is one of the most popular months for it. While having a beard in the cooler months can increase your overall badass-ness, it does come with some unwanted issues. That issue is dry skin which is more prevalent when cold wind blows across your face. This can exacerbate your already itchy beard and skin.
The great news is all of these issues (dry skin, itchy beard, and beard dandruff) can be easily remedied with some high quality beard oil. We have used hundreds of beard oils, so we understand what makes a great product.
How Does Outlaw Beard Elixir Help Your Beard
This beard oil will help to restore moisture to your facial hair as well as the skin under your beard with the natural oils that are used. One of the main ingredients in this beard oil is Jojoba oil which is one of the best oils to use in a beard oil. This is because Jojoba is very similar to the natural oils that your face produces.
By restoring some lost moisture to your hair and skin, you can reduce some itchiness. The itchy feeling you get is dry and coarse beard hair rubbing against your face, and if you have dry skin, it can be worse. Outlaw beard oil will help to condition your skin and beard. No more dry skin, no more itchy beard!
This of course is not just for men growing out their beard. Many guys use beard oil daily to help improve the health of their beard.
Beard oil will also help your beard to look more healthy. Ask any lady, and she will tell you that she does not like a dry, brittle looking scraggly beard. This oil will help to soften your beard which allows it to be combed or brushed down. This improves the overall look of your beard, and your overall appearance.
Why Choose Outlaw?
There are several reasons that we like Outlaw. First, we love their branding. If you are not familiar with their brand, go take a look at what they have to offer on their website. Their customer service is also amazing. When I ordered products from their site, my package was shipped out quickly, and they were responsive via email to some questions that I had.
The main reasons to choose this Elixir is that it works great on your beard. It conditions both your beard and skin well, and it does not leave a greasy feeling in your beard. It also smells great. A lot of beard oils that you get in big box stores will use synthetic agents to condition which we do not prefer. This beard oil uses natural oils like coconut and jojoba.
This beard oil comes in a large 3 ounce bottle, so you don't have to worry about running out anytime soon. Also, because you get so much, you can use this on your tattoos or as a hair oil.
They also have tons of positive reviews from other customers on their site as well that you can check out. That is why this product made our list of best beard oils.
What Does Outlaw Beard Oil Smell Like?
This beard oil smells like the outdoors near a campfire. There are some notes of cedarwood as well as hints of a near campfire. It smells really good. The scent is not overpowering, and it has just the right amount of scent strength to it.
Ingredients In Outlaw Magic Beard & Hair Elixir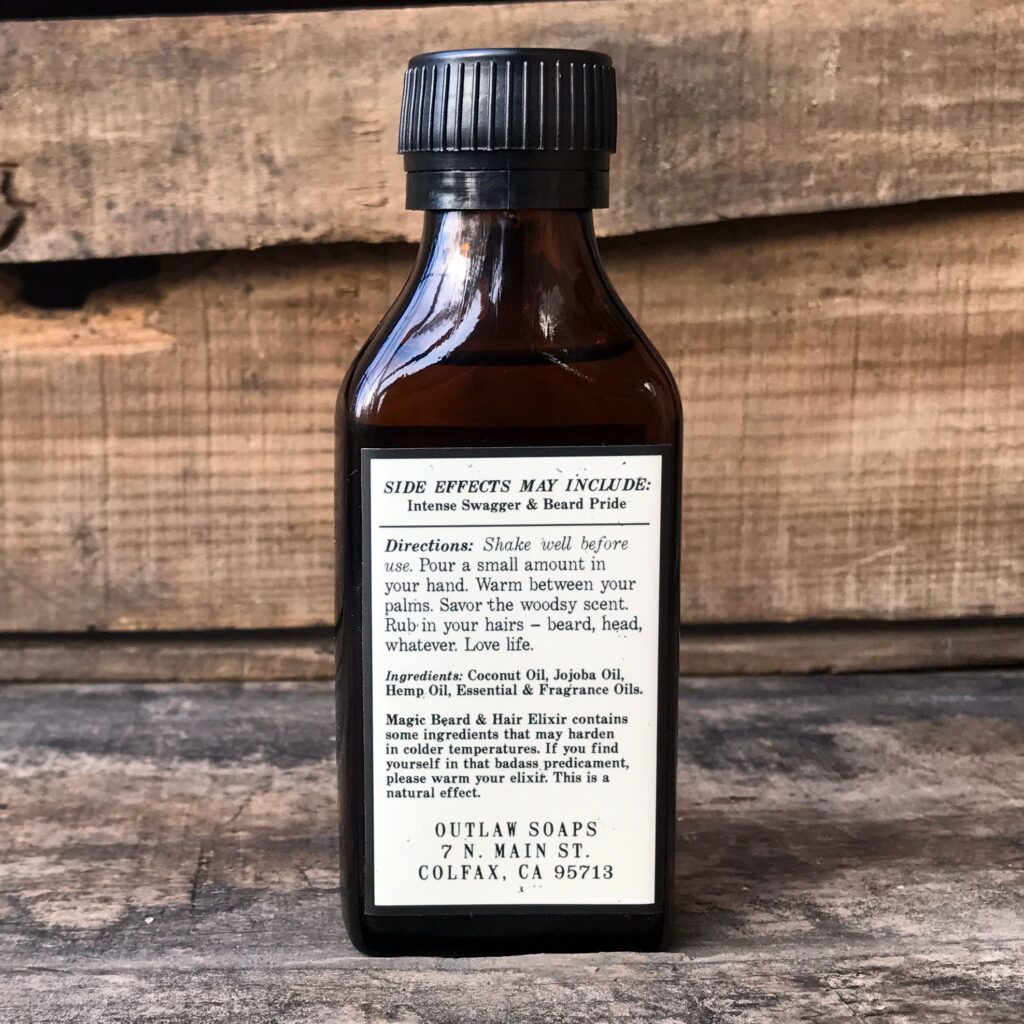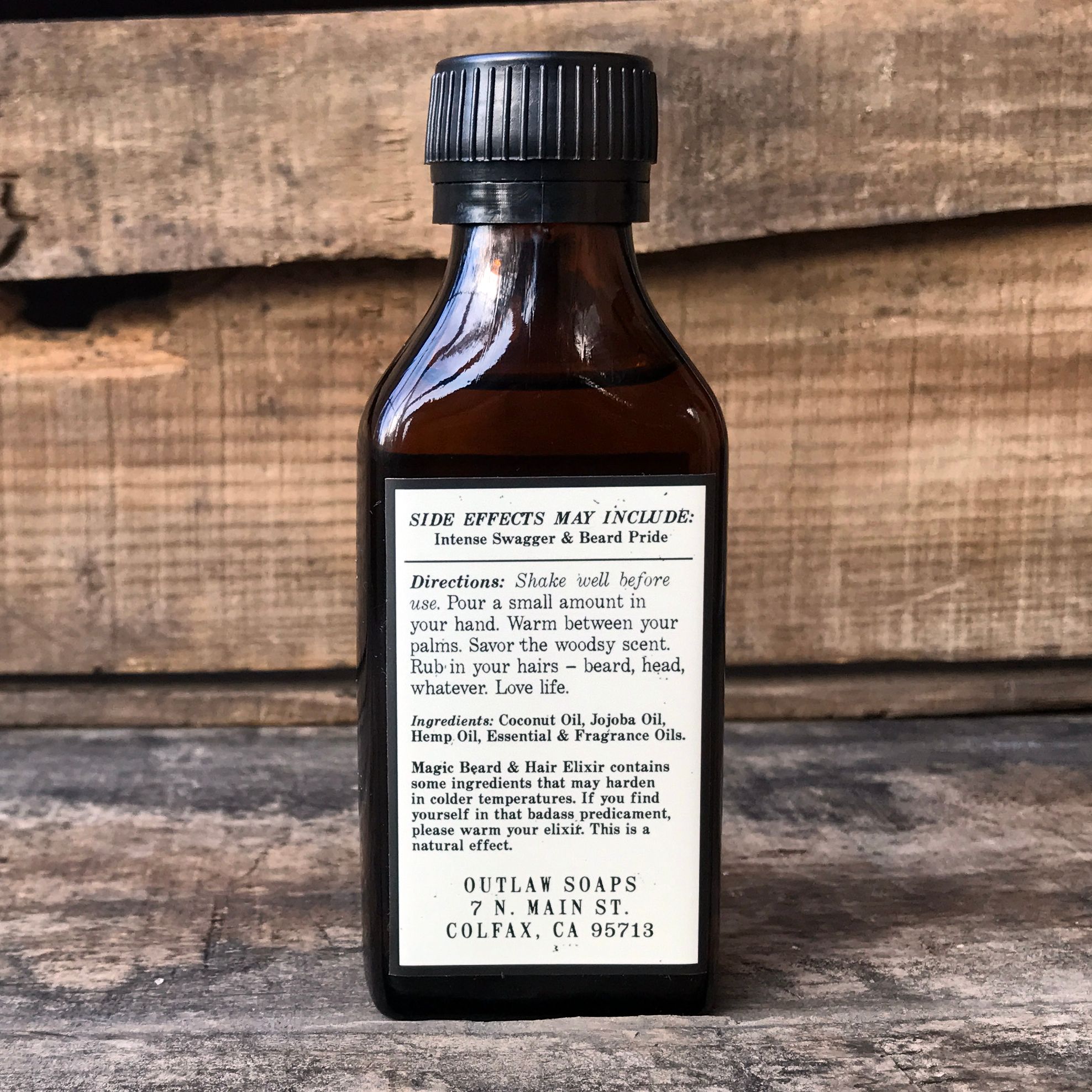 The ingredients listed on the label are Coconut Oil, Jojoba Oil, Hemp Oil, Essential & Fragrance Oils. The key ingredients that stick out are the 3 carrier oils (coconut, hemp, and jojoba.) This is the bulk of the product, and these are great oils for your face and beard hair.
How To Apply Beard Oil
This depends on the size and length of your beard, but generally you can put about 6 drops in your palm to start with. Once you have a small amount in your palm, just rub your hands together to coat each of your palms with beard oil. Next, take your hands and rub them throughout your beard making sure to coat the skin under your beard as well.
You can start using this as soon as you get past the heavy stubble phase of beard growth, and you can continue using it as long as you have a beard. You should get by with using beard oil once per day, but some guys do prefer to apply twice. With Outlaw Beard Elixir, I was able to get a full day of conditioning for my beard, so I did not need to reapply.
Outlaw Carries Other Grooming And Bath Products
If scents like whiskey, tobacco, gunpowder, campfire, and sagebrush make you interested, then you should check out their full line of products. Our staff currently uses their handmade soaps, solid colognes, deodorant, and beard oil.
In addition to beard oil, Outlaw has tons of products that can be used in conjunction with their Elixir. We love their Lust in The Dust Handmade Bar Soap as the scent matches very well with the beard oil.
They also have spray colognes, deodorants, solid colognes, body wash, shower gels, lotions, etc.